Support Great Students
Help future creators and innovators, leaders and entrepreneurs have access to a world-class Catholic education. Make certain that the best and brightest students continue on at JPCatholic.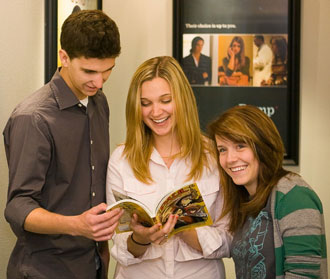 Scholarships
Student scholarship funding is our largest and most critical ongoing need. Over 90% of our undergraduate students receive institutional financial aid, which is provided by benefactors such as you.
Scholarships annually support our most bright and promising students - who graduate ready to impact culture for Christ. Scholarships are critical in bridging the gap between the student's expenses and financial aid, and are often the deciding factor on whether a student attends.
All students on scholarship must maintain a GPA of 3.0, which means they are smart, diligent and especially deserving of your support. You can transform a talented student's life by making a scholarship gift of any size.
Keep Tuition Affordable
Your gift keeps tuition affordable and our education excellent, while keeping tuition increases at a minimum.
How can I help? Your gift will provide generous financial aid for students in need, as well as for students with exceptional academic talent. You may support these bright students with a gift that is any combination of the following:
Annual or endowed
Need-based
Merit-based
Restricted according to criteria you choose
| | |
| --- | --- |
| $15,000&nbsp | Provides annual scholarships to extraordinary students who commit to Impacting Culture for Christ on graduation |
| $5,000&nbsp | Allows us to compete for an exceptional student by offering a more competitive scholarship or provide an emergency bridging scholarship to a student with an unforeseen change in family income. |
| $1,000&nbsp | Adds to our scholarship - helping students with great need and great ability. |
If you feel called to connect your legacy with that of a critical student scholarship at JPCatholic, please contact Derry Connolly, President at 858-653-6740 or email DConnolly@JPCatholic.com.
John Paul the Great Catholic University is a 501(c)(3) non-profit public charity organization.