Historic Downtown Escondido Campus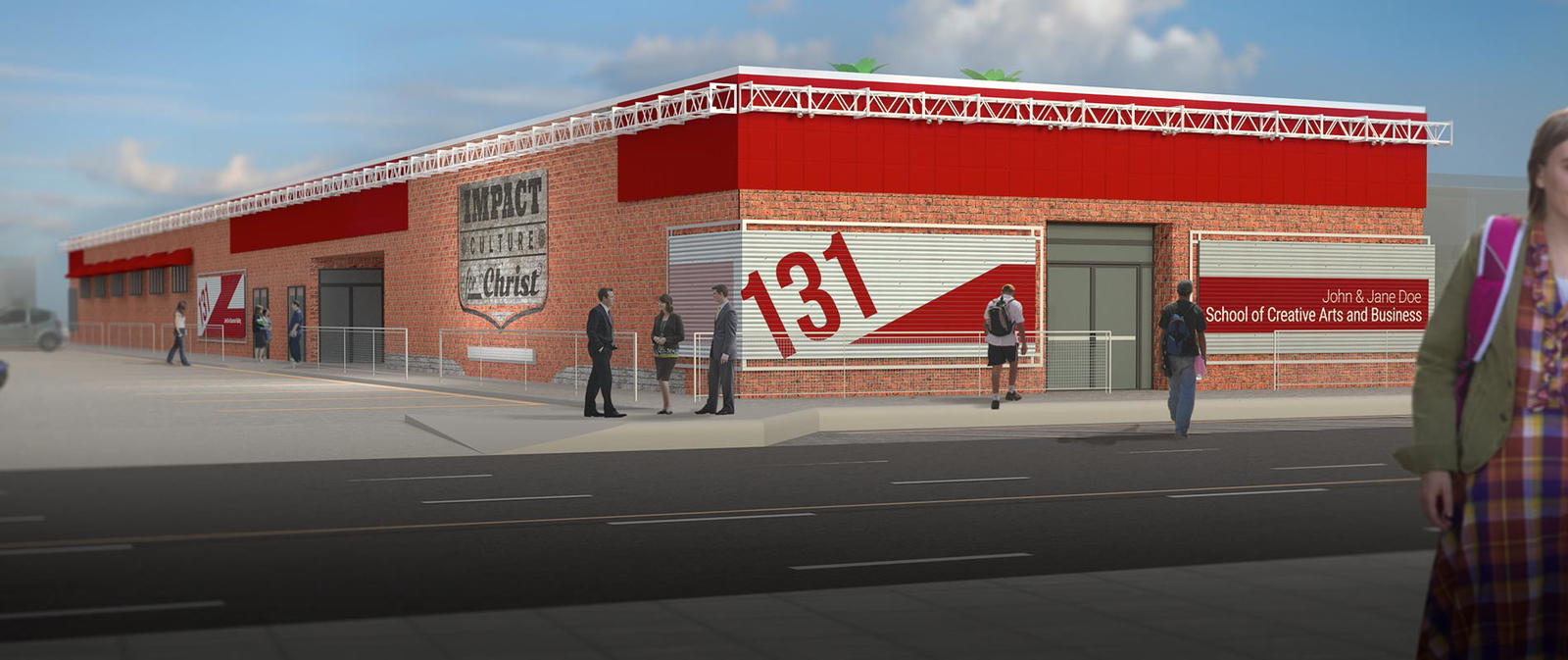 As JPCatholic shapes the next generation of artists and innovators with academic excellence, unparalleled creativity, and an authentic community centered on Jesus Christ - we must expand our campus footprint. The building above will be the future home of our Design, Fine Arts, and Performing Arts programs. We acquired the building, located in historic downtown Escondido, in mid-2016, and it will allow for our significant planned growth thru' 2025.
Our campus buildings include:
The Main Academic Building – 155 W Grand Ave.
This fully remodeled, 24,000 sf. facility houses state-of-the-art classrooms, labs for media production and post-production, a soundstage, library, offices and student study areas. It is the academic heart of the campus. The building, purchased in 2013, cost $1.85M and the University has invested over $1M in improvements.


The Student Center Building – 200 W Grand Ave.
This center provides 3,000 sf. of student gathering space and 2,600 sf. of administrative offices. The campus 'living room' provides all students a comfortable place for students to meet, relax, study, and socialize. The building, an architectural showpiece, bridges the main academic building with the Maple Pedestrian Plaza and the Center for the Performing Arts. The building, purchased in 2015, cost $1.1M and the University has investing $500K in improvements.


The Main Administration Building – 220 W Grand Ave.
This leased 11,100 sf. facility is home to university administration, admissions staff, and some faculty.


Creative Arts Building - 131 S Broadway.
The 30,000 sq. ft. building, with a planned opening in Fall 2019, will house our rapidly expanding School for the Creative Arts. JPCatholic has developed a strong competitive position in the Cinematic Arts. We are now broadening our academic focus to build transformational programs in the Creative Arts & Business to inspire creativity, innovation, conceptual, and entrepreneurial thinking in a collaborative environment at the intersections of academic disciplines which constitute the Creative Arts and Business. It will include a state-of-the-art design and art production spaces with computer labs, a screening theatre, an acting lab and performance stage. It will also include a new library, more faculty offices and parking.

An open courtyard will foster community so critical to produce artistic excellence, innovation, and the building up of an authentic Catholic community. The lot occupies more than a one half city block. The property was acquired in 2016 by a $1.5M gift from the Caster Family Foundation.


Mother Teresa of Calcutta Chapel - 240 S Maple.
This imposing 5,000 sq. ft. structure was built in 1925 in the Mediterranean Revival architectural style, which was popular in California in the 1920s and 1930s, and drew heavily on the style of Mediterranean palaces and seaside villas. The rectangular building features a large, symmetrical primary facade with stucco walls and a red tiled roof. Architect Louis Gill is considered 'one of the greatest architects in San Diego's past.' He was nephew and one-time business partner of Irving Gill, another famous San Diego architect. The property was acquired in mid-2016 thanks to the generosity of many benefactors.

The Chapel was named at the request of Terry & Barbara Caster, who were introduced to Mother Teresa in 1988. The Casters began supporting her Mexico ministry and together they built an orphanage and shelter for homeless in Tijuana. The naming honors the Caster's extraordinarily generous gift to the University.
Read our 2025 Strategic Goals, which details the University's future priorities and challenges.
For more information on making a donation, please contact Derry Connolly, President at 858-653-6740 or email DConnolly@JPCatholic.com.
John Paul the Great Catholic University is a 501(c)(3) non-profit public charity organization.