Ways To Give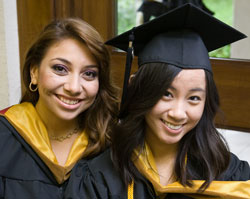 Our benefactors courageously believe that we must be the change we wish to see in the world, and they give with an extraordinary generosity. All gifts, large and small, contribute directly to JPCatholic's mission to Impact Culture for Christ and are used for the formation of our students through generous scholarships, acquiring new facilities and equipment, hiring committed faculty, and more.
Considering a Gift? Please come and visit us - contact Derry Connolly, President at 858-653-6740, ext 1501 or email him at DConnolly@JPCatholic.com. We are glad to show you what we have accomplished and to prove that we are prudent stewards of your philanthropy. We welcome you to read our 2018 Strategic Plan (PDF), which details the University's future opportunities and challenges.
Please consider making a gift in one of the following ways
Impact Culture for Christ
Mail A Personal Check
Please send your personal check, payable to 'John Paul the Great Catholic University', to:

John Paul the Great
Catholic University
220 W. Grand Ave
Escondido, CA 92025.
Matching Gift programs: Many employers sponsor Matching Gift programs for charitable gifts by employees to higher education. Some match gifts made by retirees and spouses. Contact your employer for details. Please mail your completed matching gift form to John Paul the Great Catholic University, 200 W. Grand Ave, Escondido, CA 92025. Read a list of some of the Foundations that match gifts and support JPCatholic.


Library Book Donations: Would you like to make a small donation to the library? If so, please check out our Amazon.com Wish List. We have created a list of items that would greatly enhance our collection. The library also accepts donations of gently used books. If you own one of the books on our wish list and are interested in donating it please contact the librarian at mquinn@jpcatholic.com.


Appreciated Securities: Gifts of appreciated securities (stocks, bonds, or mutual funds that have grown in value) earn an income tax deduction equal to the fair market value of their securities and avoid capital gain taxes on transfer. To receive tax credit for the current year, the transfer from an account must be no later than Dec 31.


Real and Personal Property: A residence or other real property may be given as an outright gift. You may prefer to give your home and retain the right to occupy the property for life. Personal property such as library books, art works, or musical instruments can also be useful gifts.


Bequests: A will provision allows you to make a substantial contribution without diminishing the assets available to you during your lifetime. Giving by bequest costs nothing now, yet it may give you a great deal of satisfaction to know that your future gift will live on. Since bequests are deductible from your taxable estate, significant estate tax savings are possible.


Pooled Income Fund: Gifts to a pooled income fund are invested together with gifts of other donors to the fund, and the income earned by the fund each year is shared among the participants. You incur no capital gain on the transfer of appreciated long-term securities to the fund. You also receive a charitable deduction for a portion of your gift as calculated with IRS tables.


Charitable Gift Annuity: In exchange for a gift of money or securities, JPCatholic will pay you or a loved one a fixed amount annually for the rest of your life. A large portion of the income is tax free, and you also receive a charitable deduction for part of their gift.


Charitable Remainder Trusts: You can use an irrevocable trust to provide yourself or a loved one with a fixed annual income or an income that varies with the amount of the trust. Part of the trust qualifies for an income tax deduction. At the death of the last income beneficiary, the corpus of the trust is distributed to the charity.


Charitable Lead Trust: You can support JPCatholic for a term of years or for the life of an individual by creating a charitable lead trust. Income will be paid to the University each year during the life of the trust. When the trust terminates, the assets in the trust revert to you or to individuals you wish to benefit.


Life Insurance: When you give a life insurance policy to charity, the present cash surrender value of the policy is deductible as a charitable contribution. If you continue to pay premiums after your gift, they are also deductible.
Donor Bill of Rights
Philanthropy is based on voluntary action for the common good. It is a tradition of giving and sharing that is primary to the quality of life. To ensure that philanthropy merits the respect and trust of the general public, and that donors and prospective donors can have full confidence in the nonprofit organizations and causes they are asked to support, we declare that all donors have these rights:
I. To be informed of the organization's mission, of the way the organization intends to use donated resources, and of its capacity to use donations effectively for their intended purposes.
II. To be informed of the identity of those serving on the organization's governing board, and to expect the board to exercise prudent judgment in its stewardship responsibilities.
III. To have access to the organization's most recent financial statements.
IV. To be assured their gifts will be used for the purposes for which they were given.
V. To receive appropriate acknowledgement and recognition.
VI. To be assured that information about their donation is handled with respect and with confidentiality to the extent provided by law.
VII. To expect that all relationships with individuals representing organizations of interest to the donor will be professional in nature.
VIII. To be informed whether those seeking donations are volunteers, employees of the organization or hired solicitors.
IX. To have the opportunity for their names to be deleted from mailing lists that an organization may intend to share.
X. To feel free to ask questions when making a donation and to receive prompt, truthful and forthright answers.
The Donor Bill of Rights was created by the American Association of Fund Raising Counsel (AAFRC), Association for Healthcare Philanthropy (AHP), the Association of Fundraising Professionals (AFP), and the Council for Advancement and Support of Education (CASE). It has been endorsed by numerous organizations.
John Paul the Great Catholic University is a 501(C)(3) non-profit public charity as defined by the IRS. Contributions are tax deductible as provided by law.