A Truly Catholic University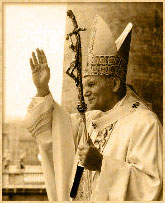 The late Pope John Paul II in his ad limina visit address to the Bishops of the Provinces of Portland in Oregon, Seattle and Anchorage on Thursday, June 24, 2004 stated that Catholic institutions in general and Catholic universities in particular:
exist for one reason only: to proclaim the Gospel.
must be genuinely Catholic: Catholic in its self-understanding and Catholic in its identity.
must find innovative ways to enable the light of Christ to shine brightly, so that the gift of His grace may truly make all things new.
must not only assist the faithful to think and act fully in accordance with the Gospel, overcoming every separation between faith and life, but it must embody a clear corporate testimony to its saving truth. This will demand constantly re-examining its priorities in the light of its mission and offering a convincing witness, within a pluralistic society, to the Church's teaching, particularly on respect for human life, marriage and family, and the right ordering of public life.
will be able to contribute effectively to the new evangelization only if it clearly preserves and fosters its Catholic identity. This means the content of the education it imparts should make constant reference to Jesus Christ and his message as the Church presents it in her dogmatic and moral teaching.
deliver a truly Catholic education that aims at an integration of knowledge within the context of a vision of the human person and the world, which is enlightened by the Gospel.
must offer an institutional witness of fidelity to Christ and to his word as it comes to us from the Church, a public witness expressed in the canonical requirement of the mandatum.
must be a community committed to the pursuit of truth and the establishment of a living synthesis of faith and reason, and should be at the forefront of the Church's dialogue with culture, for a faith which remains on the margins of culture would be a faith unfaithful to the fullness of what the word of God manifests and reveals, a truncated faith, and even worse, a faith in the process of self-destruction.
faculty and staff who share in the apostolate of the institution, including those who are not of the faith, should show a sincere and respectful appreciation of that mission which is its inspiration and ultimate raison d'être.