General Education Learning Outcomes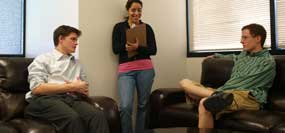 The mission of the General Education Program is to ensure that JP Catholic graduates achieve the following institutional objectives of the university.
Describe strategies and demonstrate a desire to learn independently.
Can use critical thinking and logical reasoning to sift truth from falsehood.
Communicate and evangelize using empathetic listening and applying reason in a logical form.
Analyze the causes of culture and evaluate culture's impact on the individual, family and society.
Demonstrate a friendship with Jesus Christ through an understanding of prayer and virtue.
Demonstrate intimacy with the Sacred Page through academic work.
Demonstrate an understanding of the teaching of the Catholic Church.
Articulate an individual code of ethics and apply it to predict and assess probable life situations.