Feature Film Project Receives Funding
2010 | By McKenna Daniel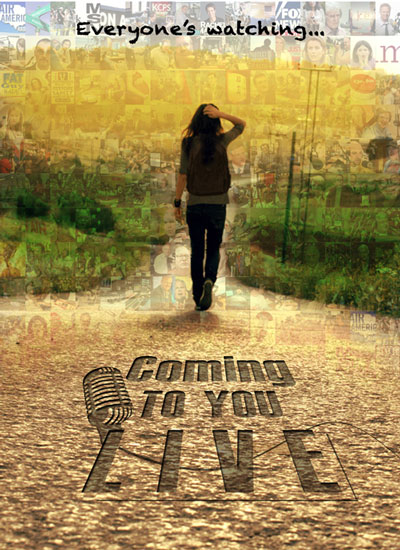 Yellow Line Studio Receives Significant Investment for Feature Film Project
Exciting news hits Yellow Line Studio as they receive funds to develop their hit web series Bump+ the Show into a feature length film, titled Coming to You Live. In 2009, JPCatholic students launched an ambitious project - to create a web TV show about three women struggling with crisis pregnancy situations. Conceived by an MBA Producing student, the TV series was crafted to reach young women with a pro-life message through the power of story. The students decided to launch it on the web to leverage interactivity of the internet, and create a civil dialogue about abortion within the context of the stories.
Bump+ immediately went viral and was featured prominently in The Washington Post, on Fox News, Slate, Perez Hilton's blog, Breitbart, Laura Ingraham's radio show, and numerous national and local TV. The show was called the most talked about web series ever. The popularity of the show led to incredible impact: 25% of pro-choice high school students polled ended up changing their minds about abortion after watching the show.
Now the MBA Producing students have the opportunity and funds to develop a feature length film. Coming to You Live will focus on the life of the teenage daughter of a high profile conservative news reporter who becomes pregnant. When the liberal news finds out her daughter is pregnant out of wedlock, the situation catalyzes into a full on political debate. Matt Salisbury, the screenwriter, describes the heart of the story, "It's about this girl's isolation, her feeling alone in a small town in west Kansas. It's about turning an unexpected pregnancy from just an issue to a human issue."
A few months ago, an investor came forward to help put money down for Coming to You Live. Father Frank Pavone's pro-life ministry and support of the series moved the investor to step forward. "I always saw it as a web series, I never saw it as a film. So when this funding happened, it was literally like a lightning bolt out of the sky. We were very surprised that this lined up, it's very exciting," Salisbury said.
Yellow Line is still raising funds to see this project through. The total production budget looks to be about $600,000. After about five development meetings, a detailed outline and treatment are now in place. Salisbury is currently writing Act Two, he talks about the underlying theme of the story; "It addresses the big issue of selfishness to generosity and openness. Generosity is easy on paper; throw some money into the collection basket. But when you have to be generous with yourself, time and the way it effects your life, it takes on a whole new meaning." Yellow Line is currently discussing the possibly of going into production in the spring for a fall release of Coming to You Live.