Student Advising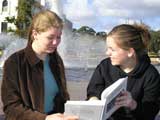 All students are assigned an academic advisor automatically by the Registrar's office. Students may request an alternative advisor to the one assigned. The University makes a concerted effort to accommodate the preference. However, it is sometimes impractical for the student request to be granted due to individual faculty responsibilities and workload.
Students are required to meet with their advisor at least once per quarter sometime in the first five weeks of the quarter. It is the student's responsibility to schedule this meeting with the professor. Students must bring their Personal Plan for Success / Self-Evaluation Form (Word | PDF) and use it as a basis for the discussion. Advising sessions are casual. The purpose of the meeting is to provide counsel to the student based on a student's performance and engagement in their Personal Plan for Success and the four pillars of Christian formation: human, intellectual, spiritual, and formation for mission. Sessions are designed to follow the 'Start, Stop, Continue' template: identifying negative behaviors that should be stopped (Stop), gaps where new activity, effort, or behavior is required (Start), and to reinforce where the student is succeeding already (Continue). The advisor should sign the student's self-evaluation form to acknowledge the meeting has taken place. Advisor comments are optional and may be included on the form. Faculty advise new and continuing students about JP Catholic general-education. graduation requirements, educational alternatives, selection of majors, program changes, and new academic opportunities.
Staff can provide general academic and curricular information, clarify academic rules and regulations, review all aspects of academic probation, monitor academic progress, assist students with decision-making strategies, and provide information about the different majors. In conjunction with the academic departments and the Office of the Registrar, the advising offices certify graduation and generally facilitate student's academic adjustment to the university.
Planning your Future Career
The Director of Career Services is available to help students and alumni with career-related concerns. The director meets one-on-one with students to guide them through the phases of their career development. Self-assessment tools, panel presentations, occupational resources, and networking programs are available to help students explore career options and determine career goals. The library has career books and videos. Faculty can also help students to gain relevant work experience through internships. The University collects and circulates information routinely on internship opportunities. Faculty gladly help with job search efforts, resume critiques, and practice interviews. Alumni are welcome to seek faculty advice when they need it.