Honor Code: Love in Action and Truth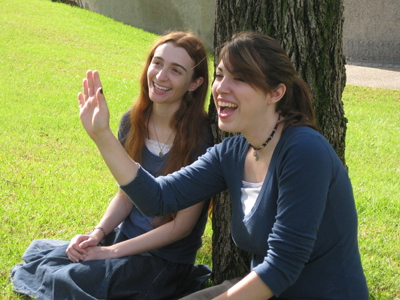 The JPCatholic community honor code of Love in Action and Truth encourages us to love others as Christ loved us who came 'not to be served but to serve.' Our love is marked by action, especially sacrificial service to others, and truth, which demands that our 'yes' be 'yes' and our 'no' be 'no.'
In particular, this honor code entails a certain kind of living in the classroom, the JPCatholic community, and in the wider community:
In the classroom, both faculty and students are to pursue knowledge of the truth with personal integrity, that is, through the pursuit of both the intellectual (knowledge, understanding, and wisdom) and moral virtues (prudence, justice, temperance, and fortitude), wherein they not only attain a deeper knowledge of the truth, but act in accord with truth through honest and respectful classroom engagement. As a result, this necessarily excludes all manner of cheating (plagiarism, lying, etc.) and calls for each student to fully commit to the pursuit of truth and professional excellence together with their classmates.

In the JPCatholic community, faculty, staff, and students are to seek to love others as Christ loved us through building friendships that are ordered to truth and goodness in service to both God and the university. In order to build a community rooted in such friendships, not only are various forms of improper conduct necessarily excluded - verbal (e.g., gossip), physical, sexual, etc.--but the grace of self-sacrificial love is needed. In the person of Jesus we find the perfect example of this, for His self-sacrificial love mandates not shying away from sharing hard truths with His friends, but He does this with profound humility and gentleness, with the goal of helping His friends prepare for life in the heavenly world to come.

In the wider community, faculty, staff, and students are to seek the grace to serve society at large in order to impact culture for Christ and demonstrate love in action and truth. While encouraging such engagement among students, it is also important that each student be able to balance both their classroom and community commitments with any additional service opportunities; for while essential, these additional opportunities should not lead to academic hardship but contribute to each students' overall development while at JPCatholic.