Spiritual Life at JPCatholic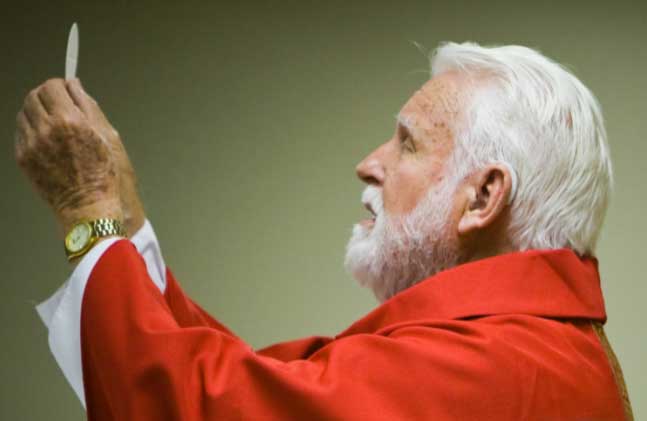 A rich sacramental and prayer life is at the center of our students' daily life, with the Eucharist being at the very core. Each day's class schedule is structured around the Mass, so that any student who wishes may easily attend. Other devotions and ministries contribute to Catholic life on campus, including Eucharistic Adoration, Rosary, households, and retreats.
---
Mass On-Campus:
Daily Mass at 11:00am (when class is in session)

Monday: Fr. Charles Willingham, O.Praem. (Norbertine)
Tuesday: Fr. Patrick Wainwright (Miles Christi)
Wednesday: Fr. Donald Timone, Priest in Residence
Thursday: Fr Scott Herrera, Pastor, St Mary's, Escondido
Friday: Fr. Donald Timone, Priest in Residence
Weekend Masses On-Campus (when class is in session)

Sunday: 5:00pm (Fr. Kevin Manion or Fr. Donald Timone)
---
Nearby Parishes
Our local parish is just a five-minute drive from campus and also offers Daily Mass at 8:00am and 6:00pm. Nine weekend Masses are available in English, Spanish and Latin.


St. Timothy's has a daily Mass Monday-Thursday at 6:30am, and on Friday at 5:30pm. Weekend Masses are 5:00pm Saturday Vigil, and Sunday 8:30am and 10:30am.
---
Spiritual direction for JPCatholic students is offered by Fr. Timone, Fr. Charles, and Fr. Patrick.
Adoration of the Blessed Sacrament
Eucharistic adoration is often available on campus in Our Lady of the Sacred Heart Chapel. The quarterly schedule will be posted outside the chapel, but it is usually Monday-Friday 12:00-5:00pm.
Adoration of the Blessed Sacrament is also available 24 hours at St Mary's Catholic Church.
Rosary
Student rosary is prayed at 9:00pm every night at the residence apartments when classes are in session.
Liturgy of the Hours
Morning prayer is prayed at 7:30am every morning when classes are in session.
Households
Modeled after Franciscan University of Steubenville, households at JPCatholic serve as a valuable source of spiritual community on campus. Commonly referred to as "Catholic fraternities" or "Catholic sororities" households are a group of either all men or all women who share a common devotion of faith accompanied by weekly commitments, such as service projects or Holy Hours. Read more
 about our households.
Priest in Residence: Fr. Donald Timone
Fr. Timone is a priest from the Archdiocese of New York who spends 6-months annually in-residence on campus at JPCatholic. He was on the faculty at Mount St. Mary College, Newburgh, from 1975 until 2002. Since the 1980's he has served as chaplain for Courage, the Catholic support group for persons with same-sex attractions, and its sister organization, EnCourage, in the archdiocese of New York. He was administrator of Sacred Heart parish in Newburgh in the 1990's. He served in the 1980's as director of the Pope John Paul I Seminary College Residence in Hyde Park. Earlier he was a faculty member at Our Lady of Lourdes High School. He was a parochial vicar at St. Joseph's, Millbrook, 1965-1968; Holy Rosary, the Bronx, 1960-1965; and St. Joseph's, Croton Falls in 1960. He studied for the priesthood at St. Joseph's Seminary, Dunwoodie.

Last Updated: April 2015