Students on set of 'Sullivan & Son
2010 | By Maria Mitchell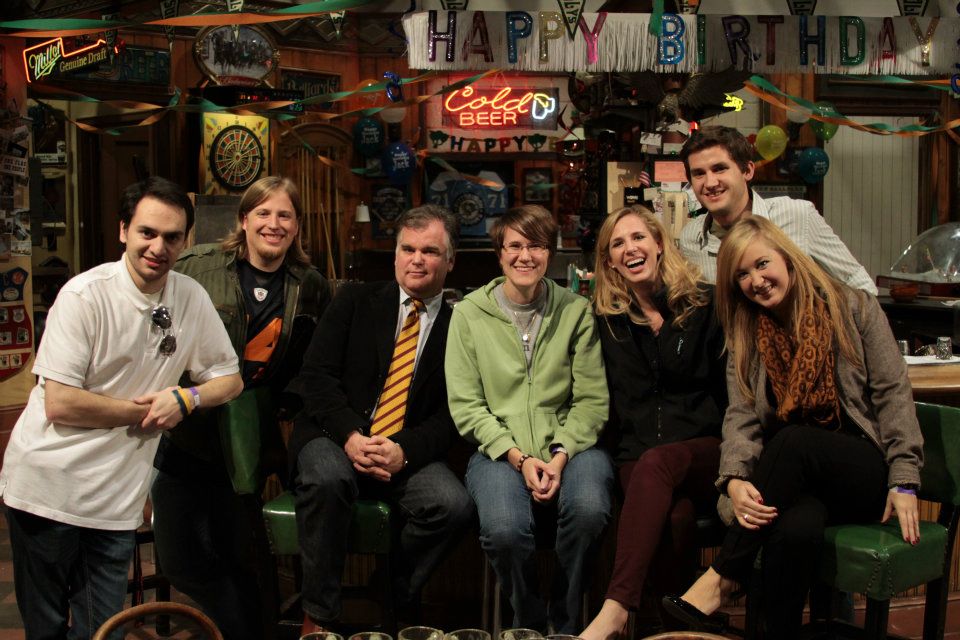 MBA Film Producing Students Learn on the Set of Sullivan and Son, a new sitcom pilot from Professor Rob Long
by Maria Mitchell, MBA Producing '13
As a new MBA student I've quickly realized that life at JP Catholic is filled with fantastic opportunities! It all started last week when I received an email alerting me that my TV and New Media Development class would take place on set at Warner Bros studios. Faster than you can say Bugs Bunny I found myself driving through the Warner's gate and opening the door to Studio 5 where legends like Casablanca and Dial M for Murder had been shot.
This time Studio 5 was home to our professor Rob Long's creation, Sullivan and Son. In addition to being our teacher, Rob is the screenwriter and producer of this developing sitcom. The comedy is set in a Pittsburgh bar owned by a Korean/Irish couple and portrays the continually humorous encounters of the locals there. Rob figured he could tell us all about directors, producers, camera operators and actors in a classroom or we could come and see how it all works for ourselves. So we took him up on his offer and spent the greater part of our week observing the likes of Dan Lauria, Steve Byrne, Peter Billingsley and even Vince Vaughn.
Through this behind the scenes experience I learned that it takes a lot of people and a great deal of concentration to produce an excellent show. Previously, I had thought the actors were the most important part of a production. It was fascinating to learn that they are but one cog in the machine. We were able to watch the director guide the actors along and keep the pace moving between shots, the prop directors spray-paint some touch ups on a taxi cab, the costume designer pick out the outfit that would best represent each character, and the producers exchange notes with executives from Warner Bros studio and TBS.
Our last day on set included the taping in front of a live audience. Having watched the show from its very first day through to this moment really helped us feel part of the crew. We were able to wish the actors and director good luck and congratulate them at the end. In between scenes the host of the night gave away prizes to audience members and the DJ of the Kardashian wedding dropped some beats in between takes. All of this made for an exciting evening and gave us a full picture of Hollywood producing. It was a once in a lifetime experience and I can't help but think Blessed John Paul II was looking down on us with a smile glad that we were learning how to impact culture for Christ from the very best.