JPCatholic's Year-Round Structure Sets Up Students for Success
Our programs are designed for students to earn their four-year bachelor's degree in just three years.
How does it work?
At JPCatholic, students graduate with their bachelor's degree in just 12 quarters. Each quarter is 10 weeks long, with about 2-3 weeks of break between each quarter. Instead of a long summer, breaks happen throughout the year. Because they attend school year-round, students start in September and graduate three years later in September.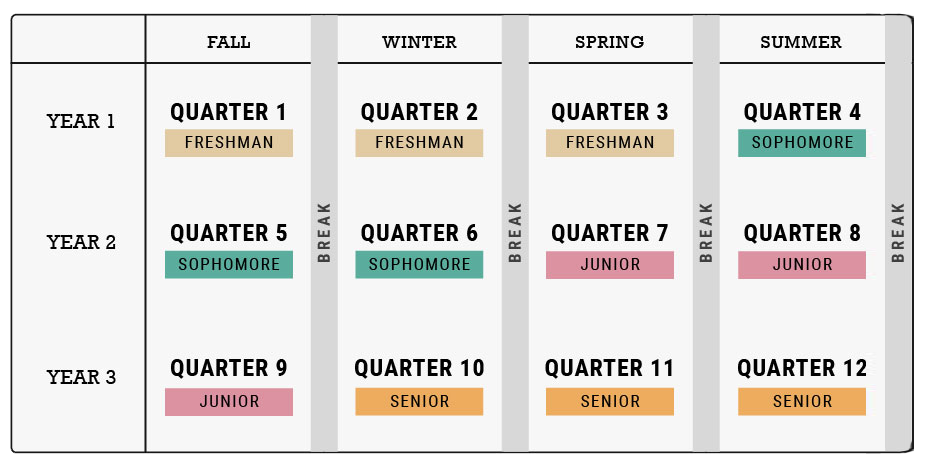 How does the year-round program set up students for success?
With just 41% of students in America graduating college in four years, the cost of college rising, and stagnating wages, we are seeing students and families increasingly concerned about the possible return of a college degree.1 JPCatholic has multiple innovative ways to set students up for success – one of them being the year-round model.
Financial Success
When a student graduates in three years instead of four, they are able to increase their lifetime earnings. Students join the workforce earlier and as a result receive pay increases earlier and have more time to invest.
Increased lifetime earnings combined with our tuition lock guarantee, decreased time to completion, and generous scholarships that 97% of students receive are all ways in which JPCatholic students are prepared for financial success. This is further evidenced in a graduation rate above the national average, and an extremely low historical default rate on federal student loans.
Academic Success
In a year-round format, students are more easily able to retain information and continue to consistently practice applying their knowledge and skills. The first two weeks of a quarter are not spent doing review, but instead are used to propel students forward in growing their knowledge. Furthermore, since the year-round program is school-wide and not optional, students are given enough time to properly absorb the material, have consistent breaks, and have their peers be on the same schedule.
Workplace Success & Summer Fun
Mirroring the professional world, the year-round schedule enable students to complete their education at a pace that will help prepare them for full-time work. Since students graduate in September, which is a prime hiring season, it also gives them a leg up by not competing with everyone else who graduated in May or June.2 The year-round calendar also presents students the opportunity to enjoy SoCal year-round, with events like Comic Con and the San Diego Fair occuring every summer.
*https://www.cnbc.com/2019/06/19/just-41percent-of-college-students-graduate-in-four-years.html
https://ideas.repec.org/p/sek/iacpro/9211398.html
https://www.pewresearch.org/fact-tank/2018/08/07/for-most-us-workers-real-wages-have-barely-budged-for-decades/
†*https://www.glassdoor.com/blog/the-best-and-worst-times-to-job-hunt-by-season/
FAQ
No, it is a year-round program; all students are on the year-round schedule.
A student normally takes five courses per quarter, most of these courses meeting once a week over the ten weeks of the quarter. When they come back after the break, they start a new set of courses.
The four main breaks normally take place for 2-3 weeks each in:
December
March
June
September (move-out required)
Students also receive many national holidays off such as Thanksgiving and Independence Day.
If they wish, students are able to stay on-campus over most of the breaks. However, students must move out over the September break, when student housing is deep cleaned and prepared for the new school year. Multiple storage unit options are available nearby, and JPCatholic helps facilitate a smooth transition.
Because all of our students are on the year-round schedule, a student never has to miss out on the fun student life activities that happen on campus, and the campus is lively year-round.
Yes, many students work part-time. Students often work at local family-owned businesses within walking distance of campus. Employers in the area are usually aware of JPCatholic's unique academic schedule.
Yes, students can still participate in our Study Abroad trips, which normally take place during a 3-week break.