General Education
At JPCatholic, we combine hands-on coursework in creative arts and business with a Catholic liberal arts education. All of our students take a core curriculum that is rooted in a rigorous study of Sacred Scripture, Catholic theology, and the philosophy of St. Thomas Aquinas. You will also engage with great works of literature, art, and music throughout Western Civilization.
In addition, all of our students take a core set of classes in Communications, Math, and Science, along with a substantial sequence of courses in Business. These seven Business courses instill valuable skills in marketing, management, and entrepreneurial thinking, while also providing an easy path toward a Business minor.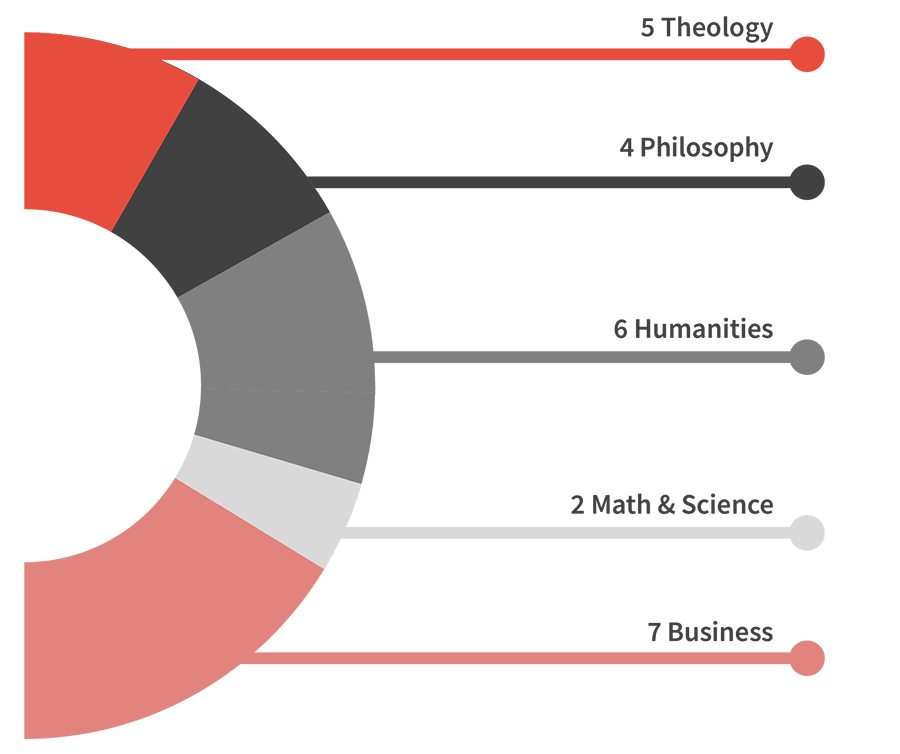 General Education (Total 23 Courses)
Theology (4)
Christian Experience I (Fundamentals of Catholicism)
Christian Experience II (Sacred Scripture and Sacraments)
Christian Experience III (Mission and Morality)
Christian Experience IV (Theology of the Body)
Philosophy (4)
Logic
Philosophy of Nature
Philosophy of Man
Philosophy of God
Humanities (6)
College Writing I *
Culture Making and Aesthetics*
College Writing II
Foundations I (Classical Period and Middle Ages)
Foundations II (Late Middle Ages and Renaissance)
Foundations III (Enlightenment, Romanticism, and Modern Era)
World History and Culture
* Choose two from these three courses
Science and Mathematics (2)
Decisions Based on Data
Natural Science
Business (7)
Entrepreneurial Thinking
Introduction to Marketing
Business Planning
Negotiation Skills
Social Media Marketing
Leadership and Management
Business Communications
The General Education coursework is spread out throughout the education. We avoid completely front-loading the General Education, so that students have more time to develop their creative and technical skills in their field of study. You can see an estimated breakdown of the curriculum distribution here:
Curriculum Distribution
The Chart below represents approximations and is provided for general information only. Curriculum is subject to change.

Please note that the curriculum is subject to change. Please see the University Catalog for the most complete and up to date information.