Acting Alumna Directs Youth Play and Inspires Young Actors
May 8, 2020 | by Clare Schmidt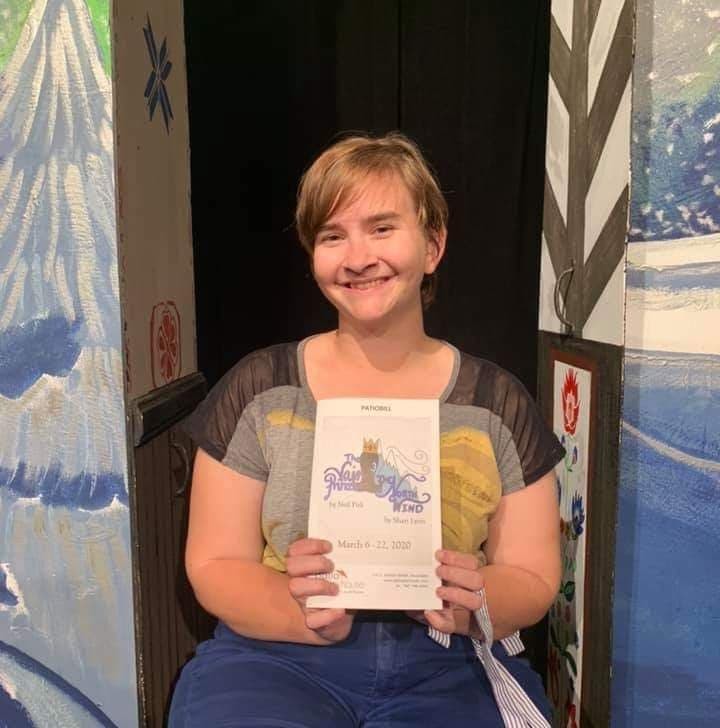 Annie Buchheit on the set of The North Wind. Photo by Sarah Winchester.
On March 6th, JPCatholic alumna Annie Buchheit directed The North Wind at The Patio Playhouse, located in downtown Escondido. She graduated from JPCatholic in 2018 with a major in Communications Media and emphases in Acting and Screenwriting.
"I actually got started at Patio as an actor," said Buchheit, "I've acted in a total of four shows with them. I was asked to direct by the woman who produced two of the shows I was in."
The North Wind was written by a local playwright and children's book author named Shari Lyon, and the cast was all children. It is about a boy in a fairy tale world, "learning to accept help from people, while also learning to take his life into his own hands," according to Buchheit.
"I learned, much like the boy in the story, that I needed to stand up for myself, because not everyone is going to agree on every front with you," she said. "If you have a creative vision, you have to stand up for it, even if that means finding compromises to make things easier."
Although Buchheit studied acting and screenwriting at JPCatholic, she expressed that her time as a student helped her in directing the project. "I feel like my time at JP really helped me to know how I should be approaching my cast. Rather than tell them every single little thing, I wanted these kids to think...The director-actor relationship shouldn't be the director telling the actor precisely how to do everything, but rather the director helping the actor to find what works best for them and their character."
Not only did her experience as an actor and writer inform her experience as a director, but her directing also informed her view of acting and writing. "It taught me what directors will be looking for in a script, which is useful as a writer, and it taught me what directors look for in and from their actors," she said. "I learned what it was like to be on the other side of the casting table, and made a realization that I hope will impact my future auditions as an actor. The people sitting behind the table want you to be the one they cast...They want you to succeed just as much as you do!"
The North Wind was originally scheduled for three shows over three weekends; however, the COVID-19 shutdowns restricted the play to one performance. "It may not have been some big, fancy, awards-worthy show," Buchheit reflected, "But I had a cast of twenty kids, many of whom had never acted before, so it was never going to be anyway. It turned out really cute and really funny, thanks to some amazing chemistry between my actors."
You can learn more about the Patio Playhouse theater at http://patioplayhouse.com.