Alumni Couples' Anthology Film 'Almost Home' Wins Multiple Awards
August 19, 2019 | By James Powers
An alumni-produced short film Almost Home has seen success as an official selection at various film festivals around the country, including MECCAcon, Transparent Film Festival, Cindependent Film Festival, and Windy City International Film Festival. The intimate drama has already won awards for Best Drama and Best Actor at Transparent, and Best Actor at Windy City.
Almost Home was spearheaded by two alumni filmmaking couples: George and Melinda Simon, and Paul and Jamie Duda through their company Francis + Louise. The film was created as an entry in the 8beats film anthology commissioned by Catholic Creatives, a collective of Catholic artists in various media.
The anthology, modeled after Polish filmmaker Krzysztof Kieślowski's Dekalog, consists of short films from eight different creative teams throughout North America, each thematically exploring one of the eight Beatitudes. George was involved in the Catholic Creatives community as the project developed, and was eventually asked to direct the West Coast Team in creating a film expressing the Beatitude "Blessed Are Those Who Mourn."
A team soon came together, including his wife Melinda as editor, Paul as producer, and Jamie as production designer. The crew included several additional JPCatholic alumni and students in Southern California, as well as other various professionals from L.A., and they shot the film over two days of principal photography in January 2018.
The story of Almost Home focuses on the chance encounter between a truck driver and a young boy who, despite their differences in age, find a commonality in shared grief. "All of the filmmakers wanted to tell stories that would speak to the fringes of society, and of the Church,' says George. "That was kind of the goal of the project, to afflict the comfortable and comfort the afflicted."
The film is expected to find distribution as part of the 8beats anthology once all the films in the series are completed.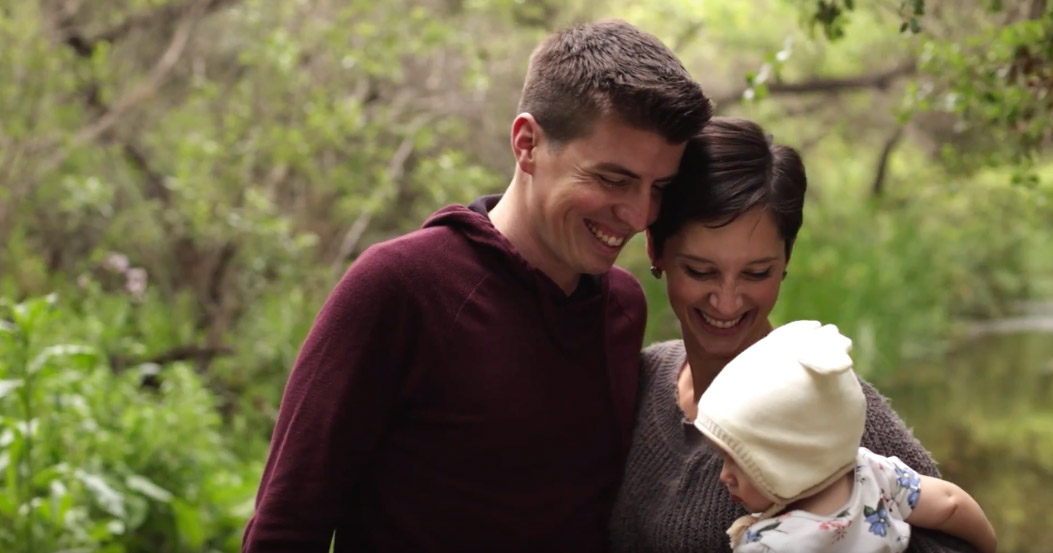 GEORGE AND MELINDA SIMON
Since completing their degrees at JPCatholic in 2012 and 2013, respectively, George and Melinda have each worked in various sectors of the film industry for both secular and Catholic productions, including with Spirit Juice Studios. In 2016, George returned to JPCatholic as a professor to teach film production. The 8beats project provided an avenue for the couple to continue fostering their passion for independent filmmaking.
So what's next for the filmmaking couple and parents of two?
The Simons have already successfully funded their next film project, The Scar, which is based on an idea that George had almost nine years ago. It's a fantasy spanning across multiple places and time periods, from the Old West to feudal Japan to European pirate ships.
Initially, when they were discussing which project to pursue next, they thought the production demands of The Scar would be too complex and wrote it off, despite it being the most exciting prospect to them. Nonetheless they eventually found themselves being nudged back to this story.
"One of our mentors gave us the great advice that you have to work on what you are most passionate about, strike while the iron is hot, don't squander the spirit," shares Melinda.
So they decided to give the story a closer look, and developed a plan to make it happen with resources they have ready at hand. "Because of the incredible talent that we're blessed to have in our network, and because SoCal provides a really versatile backdrop, we decided we could make it, and make it right," Melinda continues. As with Almost Home, the couple plans to collaborate with JPCatholic's network of alumni and students in bringing this new film to life.
"We're trying to combine smart producing and directing with the resources that have been donated for the film to find a way to tell this epic story all within a 20 mile radius of our house in San Diego," says George.
Production on The Scar will begin in mid-September. As they move full steam ahead with this next project, the Simons express that their passion for filmmaking is firmly anchored within their vocation as Catholic spouses and parents, as well as their community in the San Diego area.
"We decided that for us, seizing the moment to create, even when it seems slightly impossible, is part of a Spirit-led life," says Melinda.
More information on 8beats and Almost Home can be found here.
More information on The Scar can be found here.
Paul and Jamie Duda's company Francis + Louise produces commercial and narrative content for both secular and faith based clientele. More information can be found here.
SEE MORE NEWS