Student Bailey Garland Launches Weekly Show on JP2 Radio
September 21, 2022
On September 10th, JPCatholic student Bailey Garland hosted the first episode of "Letter to Artists", a radio show and podcast distributed through JP2 Catholic Radio. Recorded in JPCatholic's new studio "The Vault", the show is broadcast every Saturday at 9am, on AM 1450 in San Diego and at jp2radio.com. It is also available afterward as a podcast on Spotify.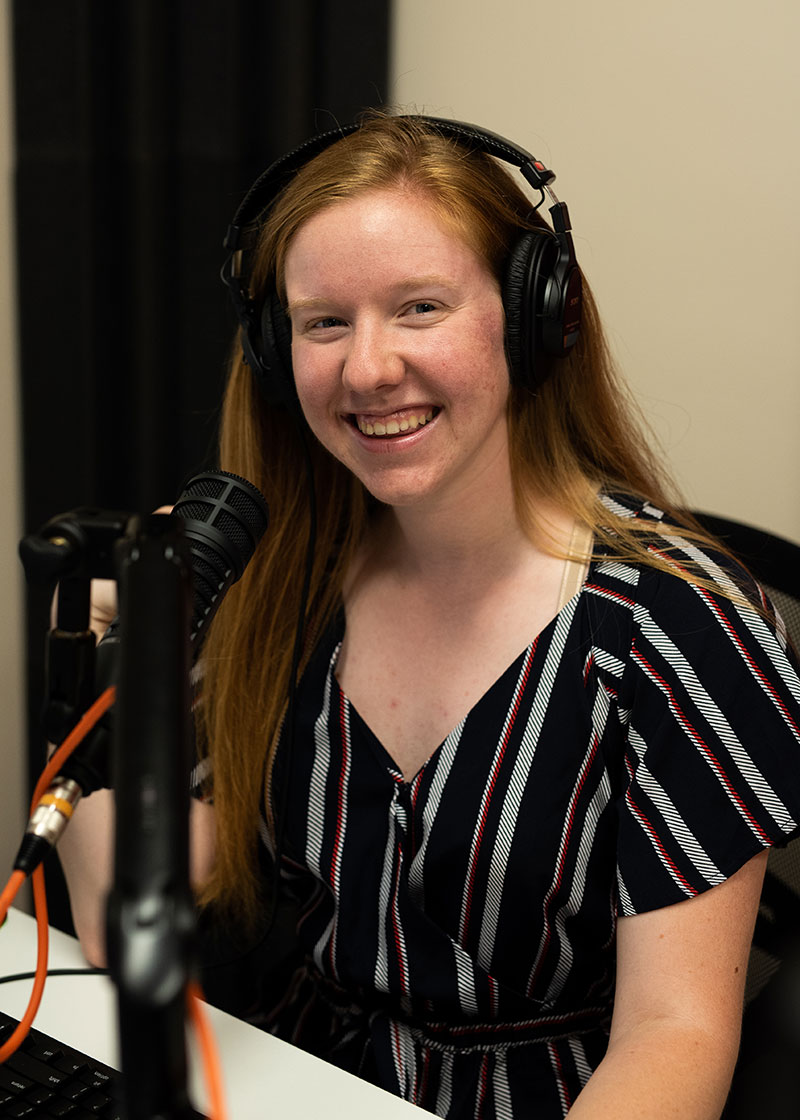 Photo Credit: Andrew Koltuniuk
"Letter to Artists" offers weekly conversations with JPCatholic students, faculty, and alumni about their creative pursuits and professions. The title is inspired by Pope Saint John Paul II's 1999 Letter to Artists, which highlights the value that artists and other creatives bring to society. Listeners of the show can expect to hear from actors, writers, musicians, directors, illustrators, photographers, and more - discussing their craft and how they've encountered the Lord through these talents.
The show is a collaboration between John Paul the Great Catholic University and JP2 Catholic Radio, a station which began in Imperial Valley in 2015 and expanded to San Diego county last year. Raul Caro, founder of the station, began exploring a relationship with JPCatholic as the network expanded to San Diego. "I saw that offering an opportunity for students to learn and create broadcast audio, realtime, could be a win-win for the University, for our network who needs talented and passionate creators, and for the Catholic community in our area," he said. "It became apparent that this partnership was smart, holy, and could serve as the basis to get the younger population involved in community Catholic radio."
Shortly after, junior communications student Bailey Garland was selected to host a weekly show for the station. Bailey studied Theatre and English at Illinois State University, where she graduated in 2021. She came to JPCatholic to pursue a second bachelor's degree, supplementing her acting background with film production and other creative arts.
"I wanted to create in pretty much every way possible - acting, costume designing, directing, writing, music," she said. "Yet, I loved ministry - teaching, retreats, bible studies, spiritual formation, one-on-one conversations. The desire to intwine my faith and artistic abilities was great. I had the opportunity to work on a play written by St. JPII called 'The Jeweler's Shop' at my Newman Center at Illinois State University, which inspired me to put my creative gifts at the service of the Church. I was hooked. I knew my heart would not be satisfied until I did this for the Lord.
"Once JPCatholic came into the picture, it was a given. It was a place where I did not have to pick between my call as an artist and the call to be a saint. I would get spiritual formation alongside creative education. I was amazed by the creative work that I saw highlighted through the university's website, and I was like 'hey, I'm made the same way! I want to do this too!' and I knew I had to be a part of the community. It's funny, the only reason I found out about this school was because a couple of years back, my spiritual director sent me a YouTube video where the students recited a piece of the "Letter to Artists" encyclical, which is now my inspiration."
Bailey hopes that the conversations will help Catholic artists find inspiration and community. "In St. JPII's encyclical, he implores the artist to really claim the vocation to beauty in all creative mediums, of course guiding the artists to those transcendentals of Truth, Beauty, and Goodness, but even deeper he dares the Catholic artist to share his/her gifts with the Church, both inside and outside her walls. I hope this show will connect Catholic artists to a community of others who share the same desire, inspiring them to use their artistic talent to the fullest wherever God is calling them."