Local Business Leaders Support Aspiring Entrepreneurs
March 11, 2014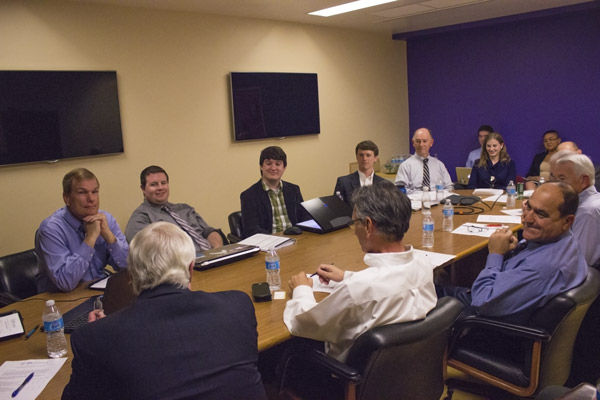 On Tuesday, March 11, business leaders from the San Diego community gathered at John Paul the Great Catholic University's campus to observe a series of entrepreneurial-minded students present their business plans and then offer constructive feedback.
The business leaders comprise a new Business Advisory Board at the University, a wide variety of professionals from the local business community whose backgrounds range from software engineering to retail, finance, sales, and law. But the one thing all of them have in common is an entrepreneurial spirit and the businesses to show it.
The Business Advisory Board is an exciting new addition to the University's Do.School program. The Do.School is the University's business incubator in which students can apply their classroom knowledge onto a real world project - attempting to start their own companies with the mentorship of faculty and professionals. The program is actually a sequence of three courses, and students receive school credit for their entrepreneurial ventures.
"This was the first set of presentations for the board, and it was impressive. The students did an amazing job," said Keith Esshaki, Founder and CEO of GTC Systems and Chair of the Business Advisory Board. "All of the board members highly enjoyed the experience. We were honored to be part of this experience to impact culture for Christ by creating ethical businesses focused on servant leadership."
Seven students presented their business plans on Tuesday, including Tiffany Hall, a senior Video Game Design student working to launch a mobile game development company in the puzzle-adventure genre.
"It was awesome to be able to pitch my company and get a very real boardroom experience. It's a little nerve-racking at first, but it's an important process and I received so much great feedback. These are entrepreneurs who are proven experts in their various fields, so their advice is really valuable."
"It also gives to students the chance to network with local entrepreneurs, and to have them as a resource down the road, for advice, internships, and maybe even funding," said University president Dr. Derry Connolly. "We're very excited to help these students realize their full potential."
The Business Advisory Board will regularly review student business plans at the end of every quarter. For a list of Business Advisory Board members and their biographies, click here.