JPCatholic Student and Faculty Artwork To Be Displayed in CCAE Art Show
January 14, 2021
This winter, Prof. S. Jacqueline Nicolini, along with a JPCatholic student and an alumna, will have their artwork featured in the Campus Creatives exhibit at the California Center for the Arts, Escondido.
Campus Creatives highlights the work of over 50 artists teaching in San Diego County colleges. Three of Prof. Nicolini's pieces will be displayed, including her oil painting "Moving in with Mrs. Thorne" which is featured on the exhibit webpage.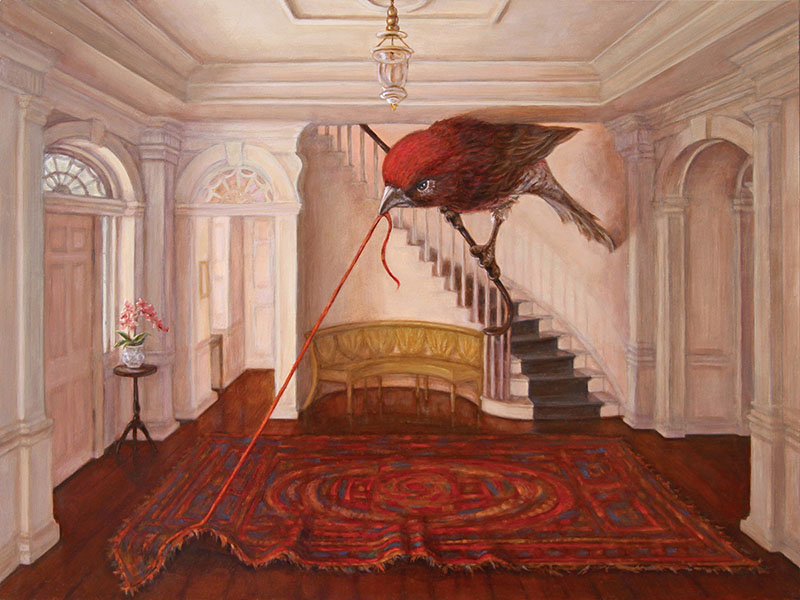 Nicolini shared some insight into her selected artwork: "The paintings are visual equivalents of combined stories based on my memories, thoughts, and musings. They reveal themes of loss, isolation, perseverance, and self-discovery, and are all told through the use of toys and miniature-scale objects."
The faculty are also invited to nominate two of their students, and Prof. Nicolini nominated Rachael Finnegan, a senior Animation student, and Michelle Regello, who has since graduated with a Bachelors in Communications Media. Each student was invited to submit five works for consideration to the exhibit, of which one per student would be selected by the exhibit coordinators.
Finnegan's selected work "Tsuki-Yomi no Kitsune" was created in Nicolini's Costume and Fashion Drawing class in Fall 2019, when students were tasked with designing an anthropomorphic character. Finnegan chose to blend aesthetics of East and West by drawing a fox with traditional Japanese garb in a violin pose inspired by musician Lindsey Stirling. "I hope that with this art piece and its sister pieces, other people may come to love and admire the mythical side of Japan's history and tradition as much as I do," said Finnegan.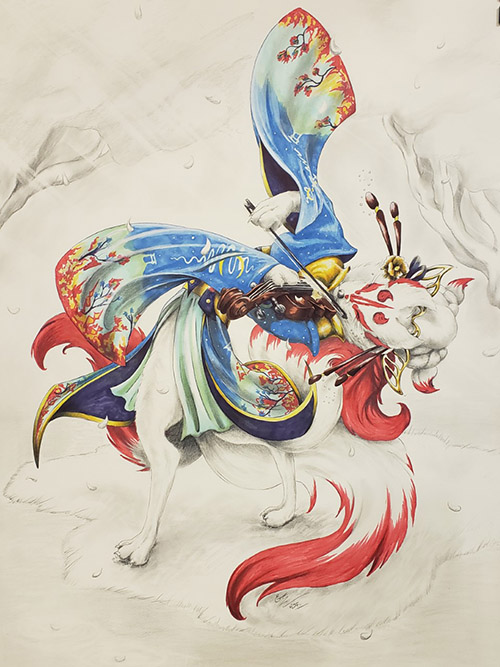 Michelle Regello's selected work "St Joseph Holding the Baby Jesus, Mission Basilica San Diego de Alcala" was drawn as part of Nicolini's Drawing on Location class in Fall 2019. "As an older student returning to my initial plan of graduating to become a writer and illustrator of children's books, it's particularly encouraging to have been offered the chance to exhibit at the CCAE," said Regello. "Prof. Nicolini is truly the best art instructor I've ever encountered - she translates how to improve in an encouraging way, while emphasizing the necessity of hard work."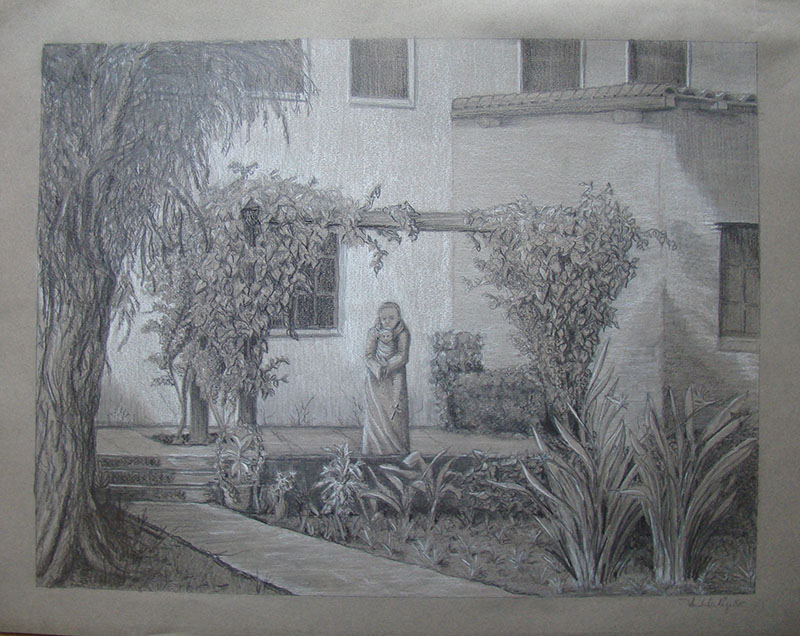 The Campus Creatives exhibit is scheduled to open January 16th - for more information, please visit the event page. To view more of Nicolini's artwork visit her website, and to view more student artwork visit JPCatholic's Student Showcase.