From Business Student to Film Producer at Word on Fire: Alumnus Douglas Cummins
October 27, 2020 | By Clare Schmidt
Douglas Cummins graduated from JPCatholic with a BS in Business, and last year his career took a shift when he started working with Bishop Robert Barron's production team at Word on Fire.
Upon graduating in 2013, Cummins immediately put his business degree to use by working for his father's architecture firm. He and Alec Calzada, a fellow alumnus, spent the next several years helping to substantially grow the firm — which included Douglas' success in growing the Instagram account to nearly 60,000 followers.
In spring of 2019, Cummins decided to pursue a career shift to focus on full-time ministry. He applied to Word on Fire, the Catholic media ministry run by Bishop Barron, and accepted a position as Production Manager for Social Media. "They actually told me I was hired on my wedding anniversary," said Cummins, "which was a great anniversary gift for my wife!"
He described how surreal it was to be on set with Bishop Barron his very first day on the job, having been an enthusiastic fan of his work since first seeing his film reviews in college: "It was JPCatholic students that introduced me to his videos actually."
In February 2020, Cummins was promoted to Associate Producer, and his current role involves everything from pre-production and set design to camera operation and editing. With many of the Word on Fire staff stationed around the country, the Los Angeles based production team is simply Cummins, two other producers, and Bishop Barron himself. "All of the Bishop's YouTube videos that we produce go through my computer." he shared. He has also served as associate producer for several of Bishop Barron's other productions, the most notable recent example being The Sacraments, a video-based study program used by thousands of individuals and parishes around the globe.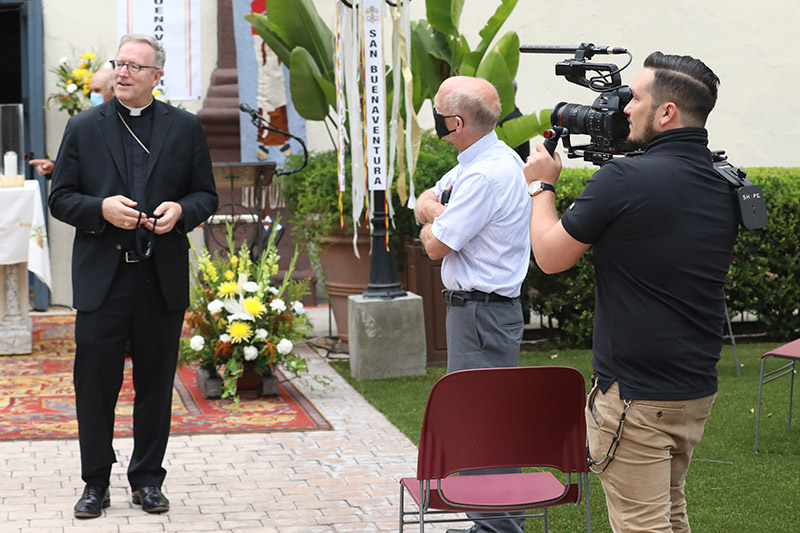 Despite having majored in Business, Cummins has always been creatively inclined. He originally wanted to study game development or music, and being at JPCatholic enabled him to foster his skill set in creative arts while studying entrepreneurial business. "I'm so glad I was exposed to everything that was on offer when I was at JPCatholic," he said. "A lot of my friends were media students and I helped them out on their productions and student films – all that time on set paid off!"
Cummins described his position as a perfect fit for what he wanted out of a career change. "Word on Fire is a mission; it's not just a job. It's wonderful that I get to support my family while doing this essential work for the Church."
Bishop Barron, auxiliary bishop of the Archdiocese of Los Angeles, has been internationally recognized as a pioneer in using modern communications as a tool for evangelization; he founded the apostolate "to draw people into the body of Christ, which is the Church, and thereby give them access to all the gifts that Jesus wants his people to enjoy."
"My individual mission is to do that in the most cinematically excellent way that I can. I've had the opportunity to work alongside some of the most incredible Catholic filmmakers that are out there," Cummins added, highlighting Spirit Juice Studios where several JPCatholic alumni have worked.
Outside of Word on Fire, Cummins also cultivates his talents in entrepreneurship and creativity with a Catholic men's apparel company called Sanctus Fidelis, creating all the designs himself. "My hope with this ministry is to embolden Catholic men to live their faith publicly… There's this perception that I wanted to fight against that religion is just for old ladies. But Catholicism is a very bold endeavor, and it's noble and it's good, and you should be proud to be a part of that."
His advice for JPCatholic students pursuing media or business careers? "Go where Providence is taking you, because to say No to that is to reject a great adventure. You can live your own idea of success, but if you say No to Providence then you're limiting the potential of that success, the service that you can provide to the Church, and the goodness you can bring to the world."
---
Learn more about Bishop Robert Barron's "The Sacraments"
Shop Douglas' "Sanctus Fidelis" store for t-shirts, hats, face coverings, and more!