Student Film "Fairytale" Takes Home Award
March 6, 2015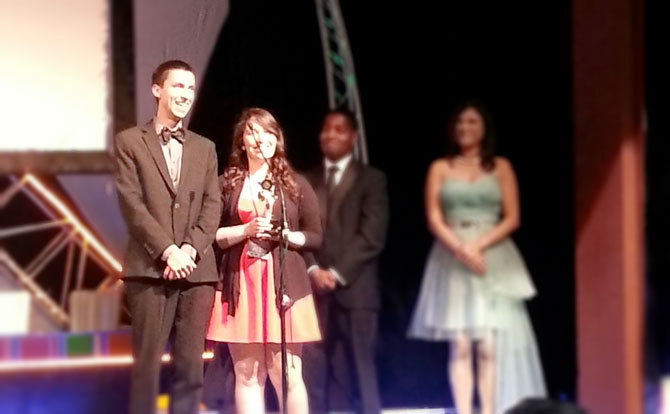 A group of JPCatholic students were recognized on March 6 at the San Diego Student Film Awards at the Grand Horton Theater. Their class project "Fairytale" took home the award for Best Soundtrack, performed by Elena Kuschnerova.
Director Erin Nicole Pierce, a sophomore New Evangelization student, shared about the project, "Fairytale is an ironic story about a father tucking his little girl into bed by telling her a bedtime story about a perfect kingdom that anyone would wish to be their own life. The one shot project reveals the true story behind the family's life. The piece by Bach that we used for Fairytale was performed by Elena Kuschnerova; she was unable to attend the actual awards night, so myself and Phillip Sandoval, the Sound Supervisor, accepted the award on her behalf."
The script was originally written by Pierce last year for Prof. Chris Riley's "Story, Genre, and Structure" several quarters prior to being produced as a class project for Prof. Nathan Scoggin's "Directing I" course during the fall quarter. The assignment was to tell a story using one continuous take, and to produce the entire project in just one week.
"My classmates and friends put a lot of work into this project," continued Pierce, "I am very grateful for all of their help, and we are all very proud to see JPCatholic films getting out into the public. I hope I will continue to help make films that mean something to others."
Watch Fairytale on Youtube!