"Living an American Dream" – Alumna's Documentary Spotlights the Cowboys and Cowgirls of Eastern Oregon
April 18, 2023
Director Clare McKay '18
Living an American Dream, a documentary by JPCatholic alumna Clare McKay, premiered on March 5th at the historic Rex Theater in Vale, Oregon. The film spotlights the rancher and rodeo lifestyle in the rugged landscapes of eastern Oregon, particularly through the lens of McKay's own family.
Clare and her five siblings were adopted from Haiti as infants and raised on the McKay ranch in Juntura, a rural Oregon community with a population under 50 residents. After graduating from John Paul the Great Catholic University's film and acting programs in 2018, she returned to Oregon to help on the ranch and develop her career as a freelance filmmaker.
Living an American Dream is her first documentary, a deeply personal project six years in the making. The film offers an intimate look at the values and culture of ranching life in her home community, told through interviews with close friends and family. Two of the cowboys featured in the film are McKay's brothers Luke and Gabe, who share their experience as African American bronc riders in the rodeo circuit, along with reflections on faith, family, and the American dream.
The seed for the project was planted back in 2017 while McKay was still a student at JPCatholic, in a conversation with classmate Mary Pelchat '17.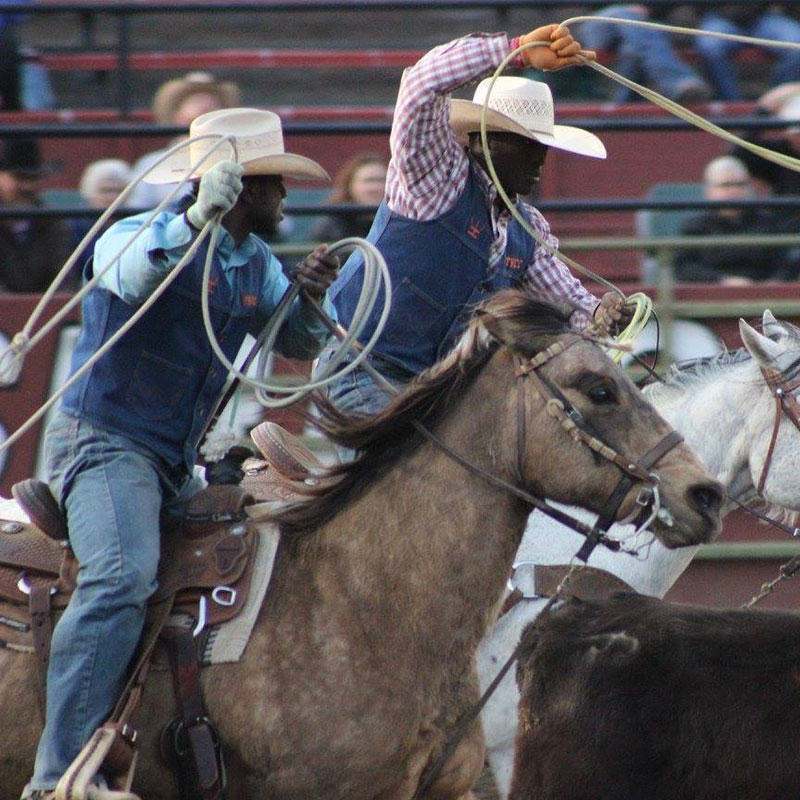 Luke and Gabe McKay
"The primary drive for this project was really the amount of questions I got about my family's story," she said. "It is very unique, six Haitians adopted into a predominantly white, very remote ranching community. For me, it's just my life, but people were intrigued by that story."
Shortly after graduation, McKay started making a sizzle reel for her brothers' rodeos, mainly to keep her filmmaking skills fresh – but it wasn't long before it evolved into a full-fledged documentary. "My artistic mind got caught up in it, like I'm a storyteller, and there is a story to tell here. Mary's voice was also definitely there in the back of my mind, about how I should put my family's story on film."
She spent a year researching and planning for the documentary, and as it took shape, it broadened to include 13 interview subjects. This wasn't only a story about her family, but also about her community, and what it means to be a rancher in modern America.
Production involved traveling hundreds of miles across Oregon and Idaho to gather interviews and footage at rodeos. McKay described how her well-rounded training in filmmaking and acting helped prepare her to handle multiple facets of production. "I came to JPCatholic for acting, but fell in love with cinematography and lighting," she remembers. "We had amazing instructors, and because of my acting training I was able to better communicate as a director with the interview subjects, helping them to be natural and to relax."
When the project wrapped, McKay collaborated on post-production with fellow alumni and filmmaking couple Hailey Boucher Jackson '19 and Dominic Boucher '20, through their Boise-based company Lioness Studios.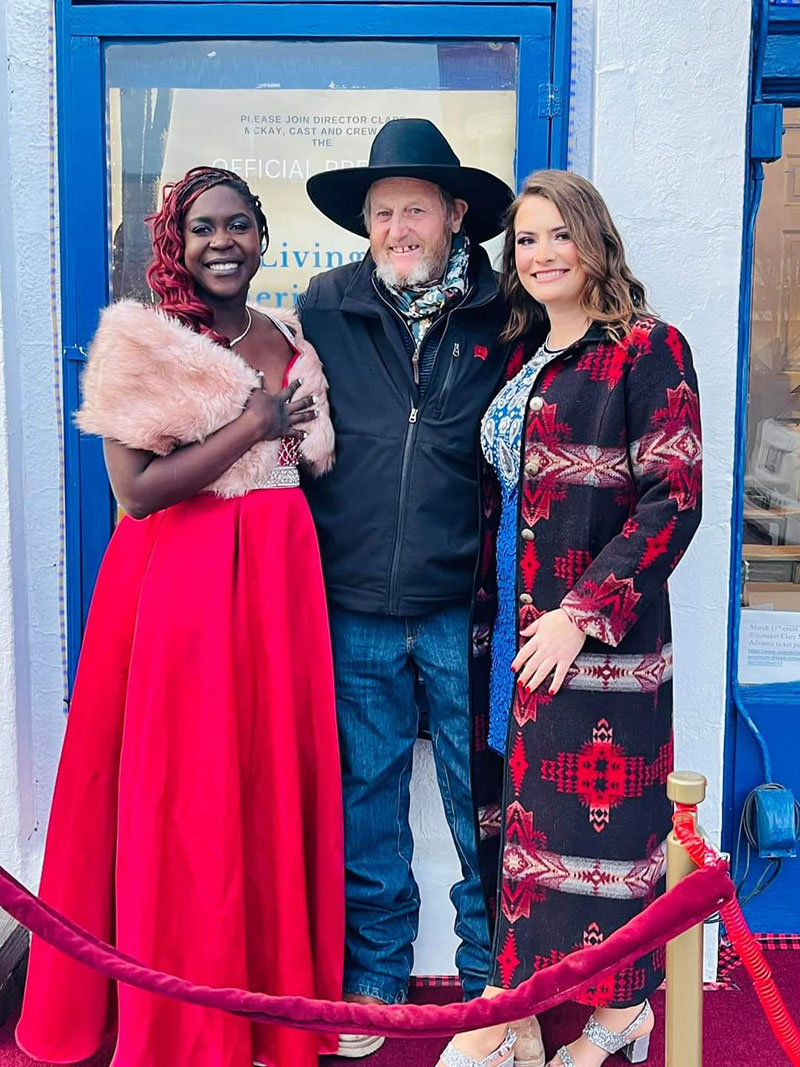 Clare McKay (left) at a screening of Living an American Dream
"We had hundreds of hours of footage - poor Dominic and Hailey had to crunch it down into 45 minutes, and they did an amazing job," she said.
Several screenings over the past month have given her community the chance to celebrate the fruits of her labors. The screenings have also included live musical performances of an original song written for the film by McKay's sister, along with a professional cowboy poet.
McKay is currently in discussion with multiple networks about a TV distribution deal, and hopes to be able to share the film with an online audience soon.
To learn about the film visit the official Facebook page.