JPCatholic Hosts Mural Mosaic's Global Roots Project
March 27, 2023
John Paul the Great Catholic University has partnered with the Mural Mosaic's Global Roots Project and Esco Alley Art to display a brand new mural representing over 1500 artists from the west coast. The mosaic was installed on the east facing wall of the University's administrative building (220 W Grand Ave), and was revealed to the public in an unveiling ceremony on Sunday, March 26th. The community event included food, music, art activities for children, and a few words from Escondido's new mayor Dane White.
The mural mosaic is composed of individual 6"x6" tiles created by artists between ages 7 and 97, including 33 local Escondido artists. These tiles form a landscape image of an evergreen tree with forests and snow-capped mountains in the distance.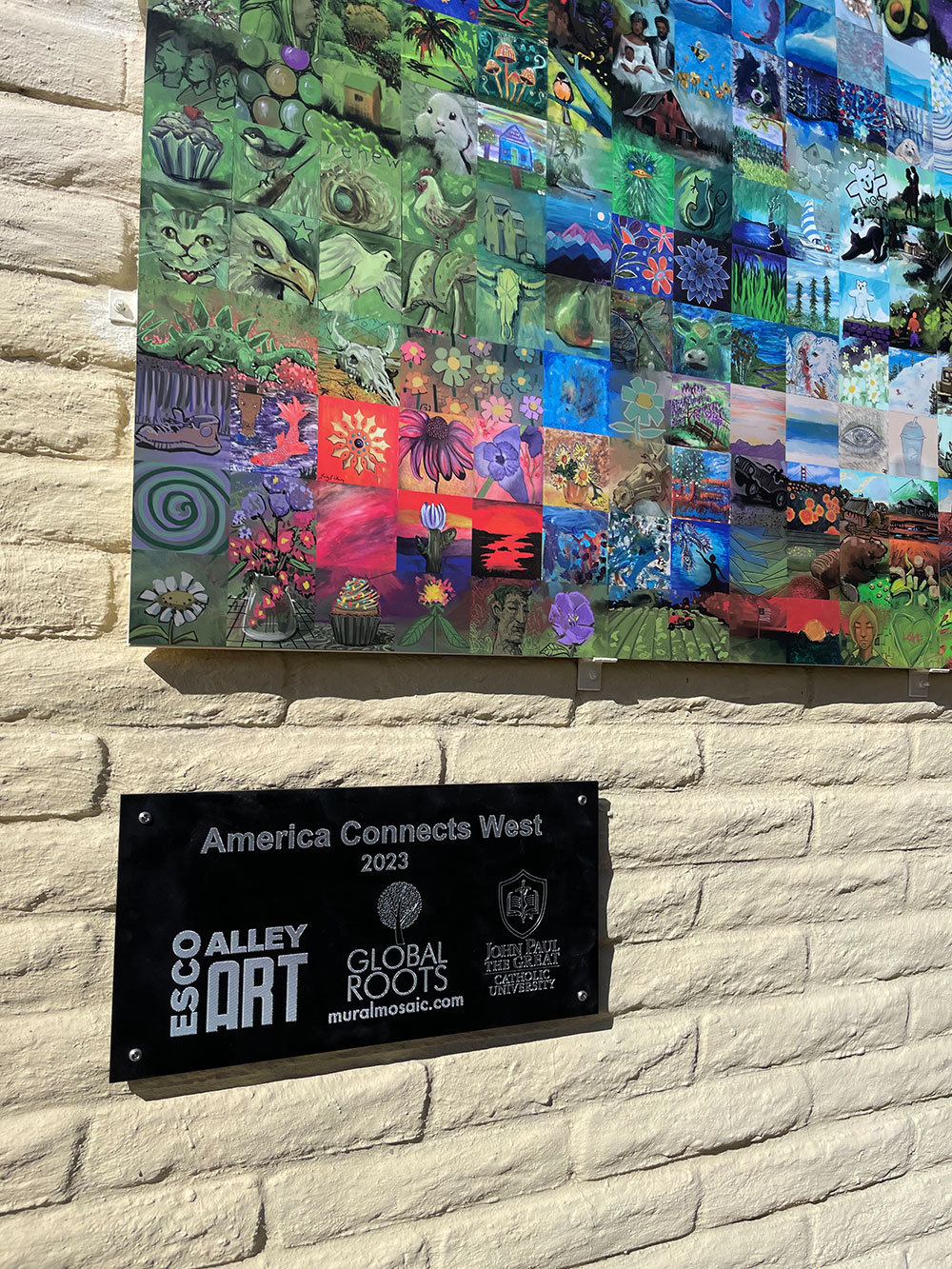 Mural Mosaic's Global Roots Project is an initiative that "aims to bring people from around the world together through the power of art." The group creates similar murals around the globe, and this installation is part of their "America Connects" series, representing the western region. The project is funded entirely by its participants, including the production and donation of the mural to Esco Alley Art.
Esco Alley Art is a volunteer driven organization in downtown Escondido that installs local artists' work in the alleys south of Grand Avenue between Kalmia and Maple Street. JPCatholic has already hosted artwork from the group, including JPCatholic student art, on the building at 131 S. Broadway, site of the university's future Creative Arts Academic Complex.
"As we unveil this exciting new edition of Esco Alley Art, we would like to thank John Paul Catholic University for providing an appropriate and highly appreciated home for the America Connects Western Regional Mural," said Carol Rogers, board member of the Escondido Downtown Business Association.
"JPCatholic is glad to support the efforts of the Esco Alley Art group to bring more art to historic downtown Escondido," said JPCatholic president Dr. Derry Connolly.
Learn more at www.muralmosaic.com/west and www.escoalleyart.com. See more photos and video from the event below: