New Virtual Production Electives Prepare Students for Growing Industry
May 9, 2022
Over the past year, Prof. Max Hulburt has added a sequence of three electives training students in cutting edge techniques for using motion capture and Unreal Game Engine in producing both CGI and live action films. Alumni have already taken positions at companies like AMGI Studios, which will use these techniques in producing a feature film for Netflix this year.
Intro to Virtual Production, Virtual Production II, and Visual Effects Production comprise a new sequence of electives designed for animation, film, or game development students interested in exploring this emerging industry.
"The whole concept is can we use real time rendering properties of a game engine to do real time visual effects work, or real time animation work, or real time broadcast television," explained Hulburt. He shared how TV shows like The Mandalorian, various animated features, as well as BBC's broadcast of the Olympics have all employed these techniques.
"Virtual production is so exciting to me, because it's so synergistic," said Hulburt. "I have these game students who understand how to create compelling environments, to create these beautiful worlds and make them interactive. But I also have film students who know how to shoot in these beautiful spaces and make them look compelling in films… It really pulls from so many areas of this university… and there aren't a lot of places that are doing this to the level that we are."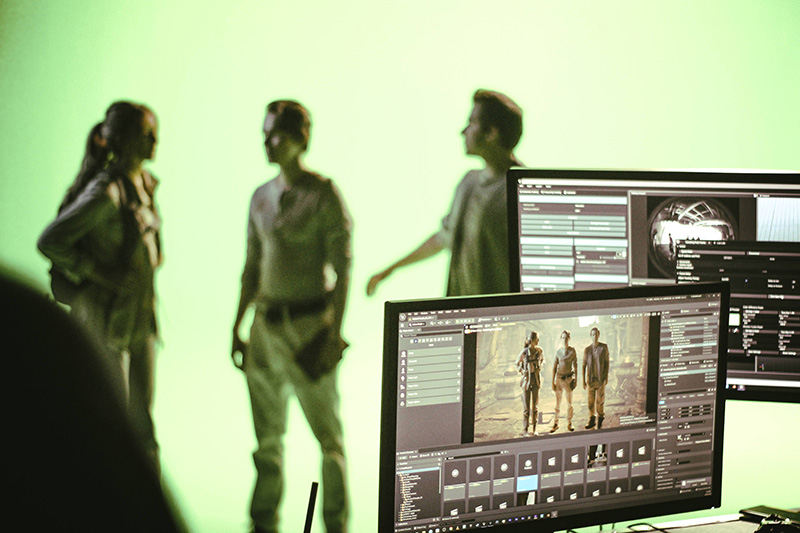 This quarter, students in Visual Effects Production are collaborating with alumni company Cinemaas Studios to produce an Indiana Jones style short film.
Hulburt created these courses to respond to a growing demand for these skill sets. "I actually have companies that have called saying 'Do you have someone who can work on this?' and so we've made some really strong connections in this space."
One of those connections is AMGI Studios in Burbank, a company co-founded by Colin Brady, a visiting professor of JPCatholic. Brady's career has included animation work at Pixar (Toy Story, A Bug's Life, Toy Story 2), as well as live action visual effects (The Hunger Games, Hugo, The Amazing Spider-Man). Now, as Chief Creative Officer at AMGI, he is a pioneer in the growing movement towards using motion capture for animated films. AMGI's work includes the music video for "My Universe" by Coldplay and BTS. Their next big project is a feature film deal with Netflix, which will ramp up production this summer.
Shortly after graduation, Sebastian Romero ('21) and Taylor Prudencio ('21) were both hired full-time at AMGI, where they use the skill sets they acquired in their virtual production courses at JPCatholic.
"The virtual production courses have helped me monumentally in my day-to-day work at AMGI," said Romero. "Prof. Hulburt trained me really well in Unreal Engine and helped me explore the endless potential it has for storytelling."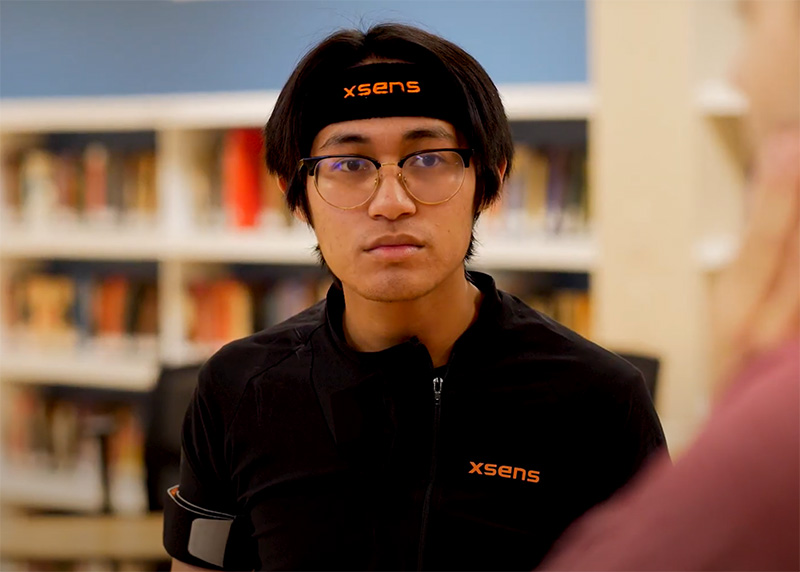 Taylor Prudencio ('21) wearing the Xsens MTw Awinda motion capture suit for class. After graduation he was hired at AMGI Studios.
"It's a pleasure being able to work there," said Prudencio. "There are multiple opportunities for me to utilize these tools and learn something new every day… On top of it all, I get to work alongside some of the most talented and charming people."
Last quarter, Prof. Hulburt took his Virtual Production II class on a field trip to AMGI to show them the possibilities that exist post-graduation. "They want to hire as many of my students as they possibly can," he said. "They're constantly looking for more people."
Back on campus, Hulburt's classes continue to raise the bar and provide new opportunities for students to explore these techniques. This quarter, his Visual Effects Production class is working with alumni production company Cinemaas Studios to produce an Indiana-Jones style short film.
Watch Hulburt's video to see an inside look at the Virtual Production sequence.