Entrepreneur Spotlight: Paul Massell & Jacob Spence
December 16, 2022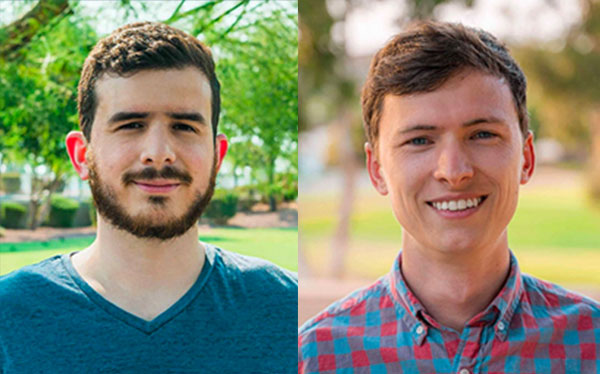 Alumni Paul Massell (left) and Jacob Spence (right) founded their video production company New Eve Media in 2016.
Could you share about New Eve Media and how it started?
PM: I started New Eve Media after about 2 years of working as a freelancer full-time. I contacted Jacob because I knew he was doing video production work, and he didn't love his job at the time. I basically pitched him on the idea that we should work together full-time building a film business. New Eve now has 7 employees and we have grown steadily every year since we started.
What kind of clients have you worked with?
PM: We've worked with businesses, nonprofits, universities, and dioceses all over the country. One of my favorite projects was filming a documentary in Lourdes, France for an organization called The Order of Malta. It was a life-changing experience for everyone on our team.
JS: While our clients include a wide range of both Catholic and secular organizations, the one thing many of them have in common is their desire to do mission-driven work. It's been a blessing for us to witness that work and to help share that experience with more people through the videos we make.
What were the biggest takeaways from your education at JPCatholic?
JS: As a Communications major at JPCatholic, I learned a lot of the technical skills of filming and editing that we still utilize on every video we produce. More importantly, the foundation of Catholic theology and philosophy that we received in college has helped New Eve to find and tell impactful stories for our clients.
PM: I think one of the best aspects of the business program at JPCatholic is that it is focused on entrepreneurship, and you are taught a lot about the practical aspects of what it takes to start and run a business. There are many lessons from the classroom that I still think about on a regular basis. For example, Dr. Jackson's Project Management course taught me to approach projects in terms of "Scope, Schedule, and Budget", and so naturally I've implemented that methodology for planning all of our business' projects.
Could you share about your connection to the students in our sales classes?
PM: One of my primary roles at New Eve is selling our services and bringing in new projects. Throughout the process of growing our business, I've learned a lot about sales, networking, and relationship-building. For the last two years I have taken part in the Sales Sequence led by Professor Haight. I've participated by sharing lessons from my work in sales, and offering an internship at my company. I had two internships when I was a student at JPCatholic, and I believe real-world experience is extremely valuable once you graduate and begin looking for a job.
What do you think are the most important ingredients for success in entrepreneurship?
JS: It's sometimes difficult but necessary to say no to opportunities that might help your business in the short-term but aren't helping you grow long-term. Time is our most valuable asset, so it's been really beneficial for us to focus primarily on those projects that are within our area of expertise, and not pursue projects that aren't right for us.
PM: I think the most important ingredient is to surround yourself with great people, including business partners, employees, and customers.
To learn more about New Eve Media, visit www.neweve.com