Prof. Riley Releases 3rd Edition of The Hollywood Standard
May 13, 2021
On May 4th, Prof. Chris Riley's book The Hollywood Standard: The Complete and Authoritative Guide to Script Format and Style was published in its third edition by Michael Wiese Productions.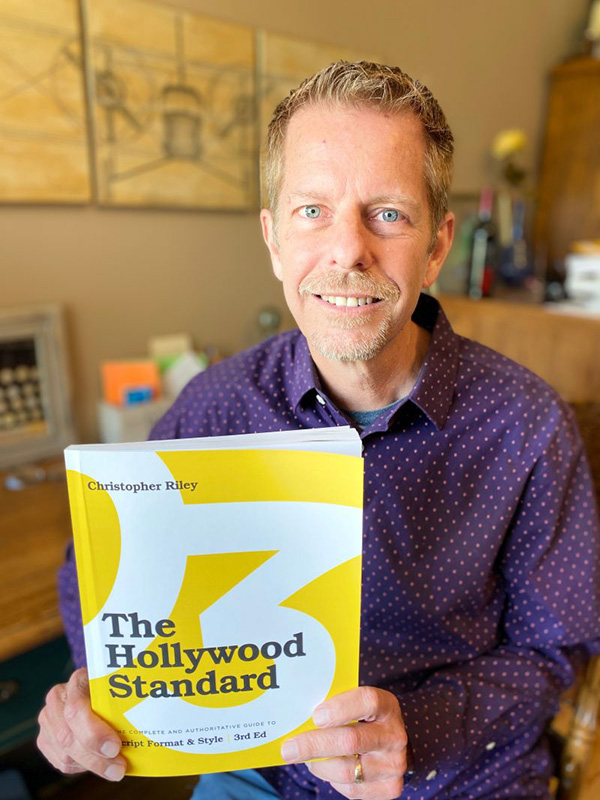 A veteran of the Warner Bros. Script Department, Riley released the first edition of The Hollywood Standard in 2003, with a second edition following in 2009. The book serves as the definitive guide on script formatting, used by professional screenwriters and film schools across the nation. It provides comprehensive guidance on topics including capitalization and punctuation; margins and spacing; how to format shot headings, dialogue, and direction; how to control pace with formatting; and how to make a script page visually inviting to the reader.
This new edition examines the future of formatting with a chapter on how Hollywood's most innovative screenwriters are pushing the boundaries of screenplay format. For the first time, it also devotes a chapter to the quirks of formatting scripts for animation.
Riley says, "With this new edition, I wanted to share samples of the freshest, most cinematic writing I could find from screenwriters like Guillermo del Toro, Danny Boyle, Taika Waititi, Vince Gilligan, Jordan Peele, Joel and Ethan Coen, Barry Jenkins, Aaron Sorkin and Quentin Tarantino. It's my favorite chapter in the book because it gives me a chance to do show-and-tell with writing I admire. I hope reading these examples of cinematic magic on the page will expand the horizons of imagination for my fellow screenwriters."
Riley is a screenwriter with over 25 years of experience, and from 1995-1998 he worked as Manager of Script Processing at Warner Bros. His first film After The Truth, an award-winning courtroom thriller written with his wife, Kathleen Riley, sparked international controversy when it was released in Germany. Other credits include 25 To Life, a dramatic thriller for Junction Entertainment and Touchstone Pictures; The Other White House, a political thriller for Sean Connery's Fountainbridge Films and Intermedia; Aces, an action-adventure romance for Paramount Pictures; and a screen adaptation of the book Actual Innocence for Mandalay Television Pictures and the Fox television network.
From 2005 through 2008, he served as director of the acclaimed Act One Writing Program in Hollywood, which trains Christians for careers as writers and executives in film and TV. He has taught screenwriting at JPCatholic since 2007.
Riley's book can be purchased on Amazon and on the publisher's website.