Rest in Peace Bishop Brom
May 10, 2022
Bishop-Emeritus Robert Brom of the Diocese of San Diego died on May 9th, 2022, at the age of 83.
Bishop Robert McElroy described Bishop Brom as "a pastor, teacher and servant leader of the Catholic community in San Diego and Imperial Counties for 23 years. He oversaw the building of many beautiful churches in our Diocese, as well as the establishment of two magnificent high school campuses."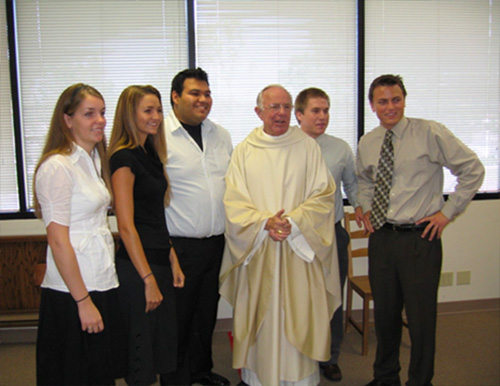 Bishop Brom with students of JPCatholic's first class.
When John Paul the Great Catholic University was founded in 2003, Bishop Brom gave his consent to form a Catholic university in his diocese. He asked that the word "Catholic" be in the name of the University. When JPCatholic's initial campus opened in Scripps Ranch, he celebrated the Mass of blessing for the new university. When JPCatholic moved campus to Escondido in 2013, he again said a Mass of blessing for the new campus.
"Bishop Brom was very supportive in the formation of JPCatholic," said Dr. Derry Connolly, founding president of JPCatholic. "He said that if the endeavor was of God, it would succeed. He was very responsive and always made himself available."