Alumna's Organization "State of Art" Offers Community, Support to San Diego Artists
July 18, 2022
Since graduating from JPCatholic in 2020, Kaitlyn Krikorian has put her film education to use as an independent videographer and photographer, while also working at marketing agencies such as Yellow Line Digital and currently GoBeRewarded Marketing Agency in Vista, CA.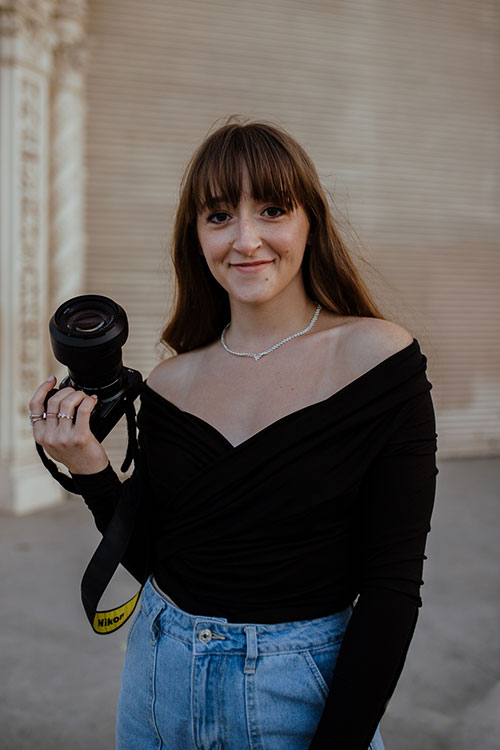 Photo Credit: Anel Muro
Last October, she came up with the idea for State of Art, an organization that would provide networking for creative professionals, facilitate paid work opportunities, and raise funds for mental health initiatives.
With support from fellow alumni Isaac Kiedrowski ('19) and Sam Carts ('20), she launched the group and has coordinated three events so far. Gud Times photo studio in La Mesa partnered with State of Art to host two networking events in February and March. Over 50 people attended each event, a blend of JPCatholic alumni and other members of San Diego's creative community. The events provided live music and vendor booths, and 10% of proceeds from ticket sales went toward mental health charities.
Krikorian shared that it was rewarding to see an immediate impact. "I talked to a bunch of people who attended the event who got gigs, because they met something there who then hired them, which was the goal."
State of Art followed that up with a benefit concert in May in Carlsbad Village to raise funds for the victims of war in Ukraine. "We had a bunch of musicians basically do a street concert, set up with a booth with information on where the money was going, and we were able to raise $1,500 for charity," she said.
Krikorian also keeps busy with her own videography and photography business, doing shoots for weddings, brands, creatives, and music videos. "I use a lot of the skills I learned at JPCatholic every day for my job," she said, crediting the hands-on film classes and abundance of film shoots for building her creative talent, as well her organizational and leadership skills.
State of Art's next event on July 21st is a music competition and fundraiser hosted at Pour House cocktail bar in Oceanside. Starting at 7pm, the event is free to attend, and each round audience members will cast a vote on their favorite act by spending $1 to determine who advances to the next round. If you are interested in performing or attending, please visit State of Art's website for more information or follow on Instagram @stateofartorg.
Learn more about Kaitlyn and her photography and videography business at kaitlynkrikorian.com
Photo Credits: Kaylee Toole & Kaitlyn Krikorian