Reflections from Sundance 2023
February 8, 2023
Since 2018, JPCatholic has offered an elective credit experience traveling to Sundance Film Festival in Park City, UT. Students and faculty stay with host families, network with other filmmakers, and attend a wide variety of film screenings at the largest independent film fest in the nation. A unique highlight of the trip is the Windrider Summit, which features panels bringing together Christian universities and filmmakers to discuss how to effectively incorporate Christian values into film.
This year, Prof. Nathan Scoggins, Prof. George Simon, and Production Manager Kaitlyn Krikorian accompanied seven students to the festival. Below are reflections from several students on their experiences: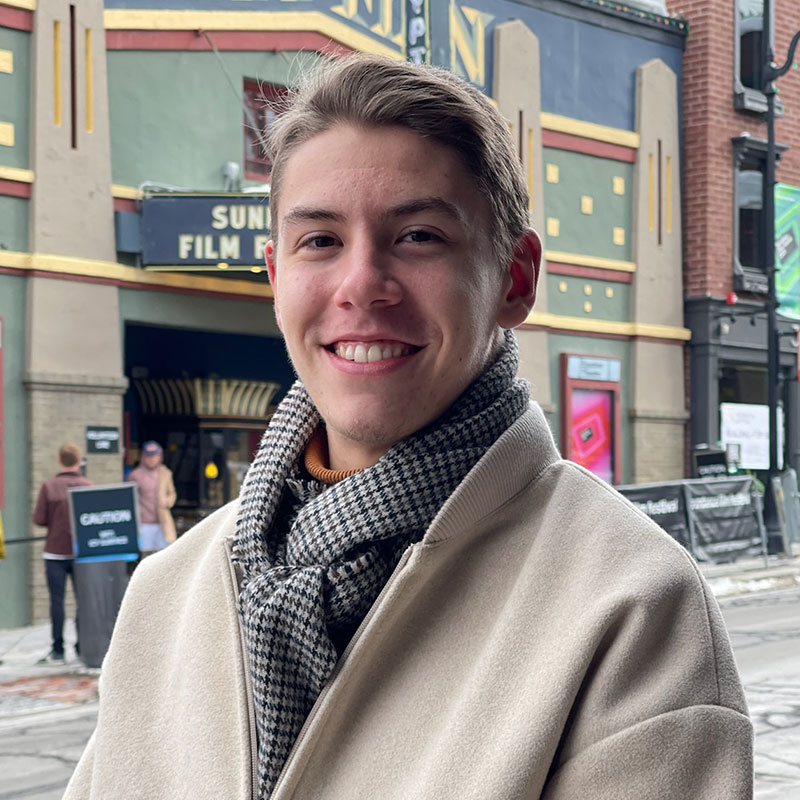 Alan Hewitt
Senior, Film Production and Directing
Main takeaways: It was incredible to attend a film festival of this caliber where so many different voices are represented. The festival as a whole inspired me, igniting a desire to see my own voice represented, and more importantly, more Christian and Catholic voices heard through the medium of film. The ability to have this experience with professors and fellow students sparked deep conversations about what is being said in today's world of cinema, what has yet to be said, and what part we, as Christians, are called to play in the scene.
Favorite film of Sundance? The best film I saw would have to be THE POD GENERATION by Sophie Barthes. Through satire, the film cleverly (and refreshingly) weaves a pro-life, pro-family message into a cautionary tale about the future of technology—specifically, the future of childbirth.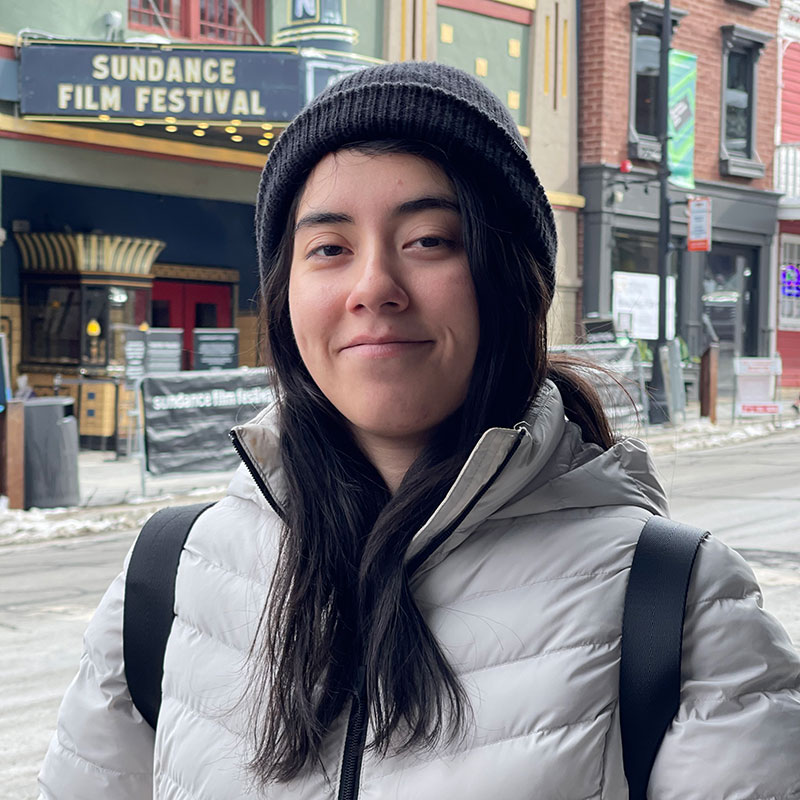 Karen Barboza
Senior, Film Post-Production
Main takeaways: The most valuable part of the experience for me was the Windrider events, where they screened short films and directors talked about their passion for the stories. It was very inspiring when Destin Daniel Cretton talked about the dynamic of his introverted personality and his name on big projects like Marvel's Shang Chi and Kang Dynasty. I related to him a lot, so it was comforting to know that being yourself is the best thing you can do as a filmmaker.
Favorite film of Sundance? The best film for me was FLORA AND SON because each character was always fun to see. It was really funny throughout and it was sweet to experience a family come together with music. I'd definitely watch it again.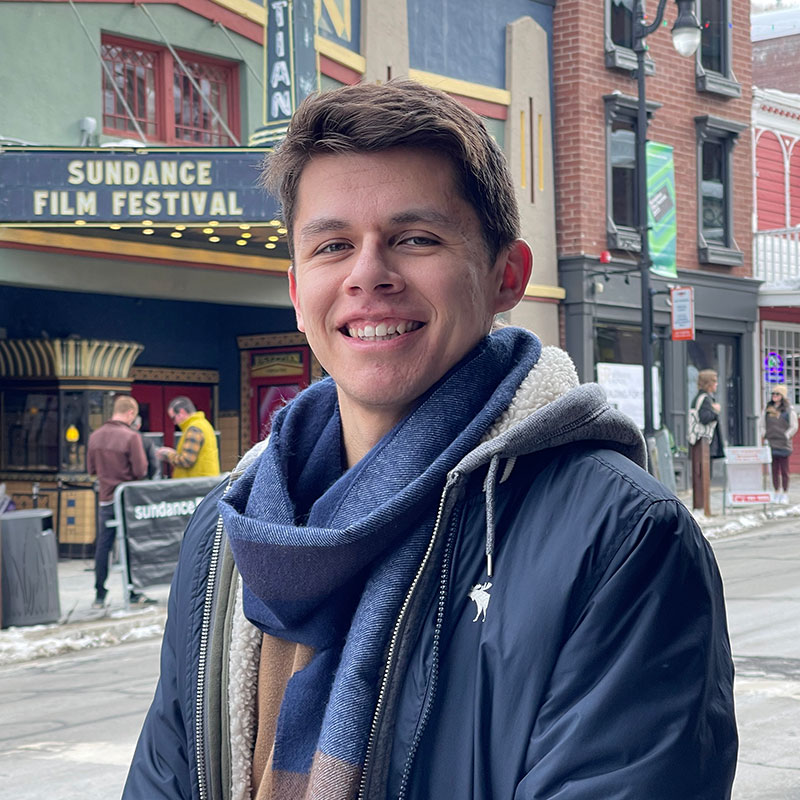 Peter Gonzalez
Senior, Film Producing
Main takeaways: It was inspiring to see and hear how passionate filmmakers were about their projects when they would discuss them after the screenings. It was validating for my goals to attend and have this feeling that one day, God willing, I would be in their shoes, presenting my own films. Having the opportunity to grow with my classmates and learn from my professors contributed to why this trip is one of my highlights here at JPCatholic.
Favorite film of Sundance? THE POD GENERATION did a fantastic job of telling a cautionary tale through sci-fi film that also intertwined an incredibly pro-family and pro-life story. The film takes you on a journey that challenges the definitions of feminism, the role of men as fathers, and technology's growing invasion into our personal lives. Stylistically the film also created a world that felt ground while also foreshadowing a future that we most likely don't want but is more present than we think.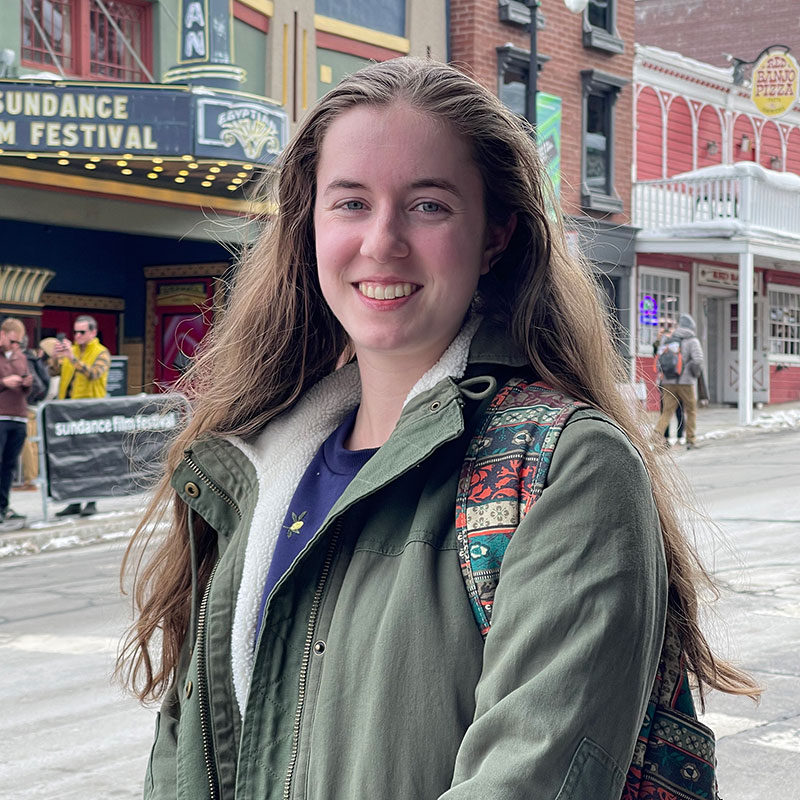 Abigail Ross
Senior, Film Post-Production
Main takeaways: The most valuable part of attending Sundance was having conversations with people from all walks of life. I met insanely talented artists and saw so many documentaries and movies that had unique styles and visions. It was fascinating to listen to directors during their Q&A's and learn how they came to develop their project and how they remained true to their artistic vision.
Favorite film of Sundance? The best film I saw was the documentary PRETTY BABY: BROOKE SHIELDS. A stunning portrait exposing child exploitation, corporate greed and gender inequality, the documentary held back nothing talking about 80's icon, Brooke Shields, who told all of her stories herself.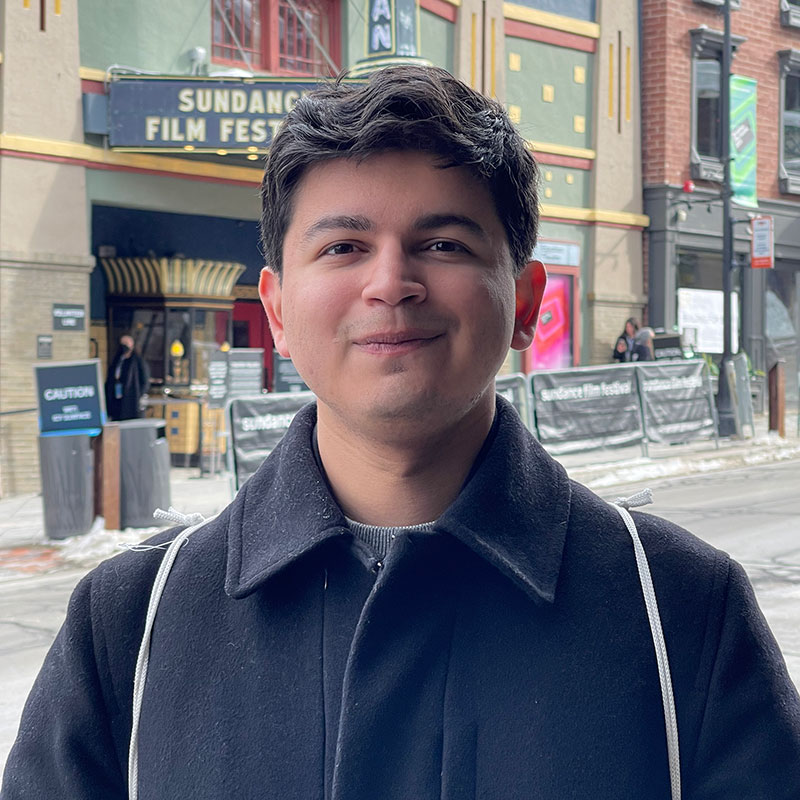 Everett Ramirez
Senior, Film Production and Directing
Main takeaways: A highlight for me was getting to meet Terry Rossio, who is a big inspiration to me in the screenwriting world. Hearing from the person who wrote Shrek, Pirates of the Caribbean, and Aladdin was truly inspiring. He told me that if stories are about extremes, then the characters should be too. He also shared that, contrary to popular belief, screenwriting is a far more expensive way of getting therapy than just meeting a therapist.
Favorite film of Sundance? MAGAZINE DREAMS told a very heartbreaking story of a man that simply wanted to be recognized. The film follows an awkward man as he strives to become a bodybuilder, his desire to be on the cover of a magazine, and his frustrations when people look down on him or ignore him. The film surprised me by how much I've been thinking about it after watching it - and the more I reflect on it the more I appreciate it.