"What Remains" Gets December 2nd Release Date
November 9, 2022
Prof. Nathan Scoggins' murder mystery film What Remains will be released theatrically and on streaming on December 2nd. The domestic distribution rights were sold to Gravitas Ventures. As reported by Variety, the deal was the result of a competitive bidding situation, following the film's sold-out premiere at the Austin Film Festival on October 28th.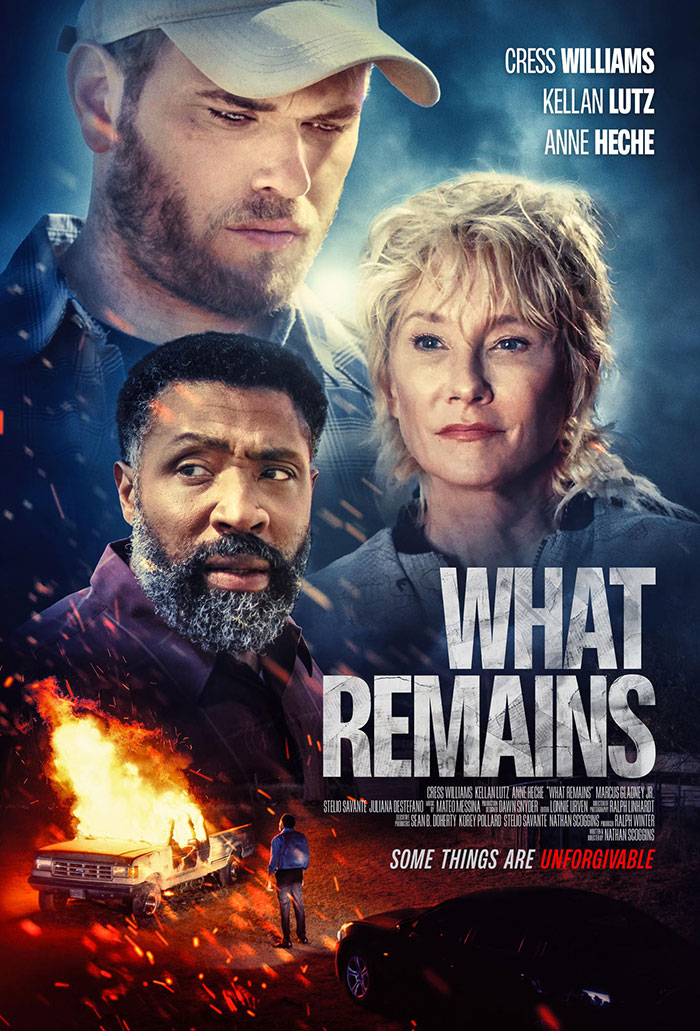 The murder mystery, set and shot in northern Texas, was written and directed by Scoggins. It was produced by Ralph Winter (X-Men), with executive producers Korey Scott Pollard (Chicago Fire) and Sean Doherty, CEO of Sharpened Iron Studios which co-financed the project.
The film stars Cress Williams (Black Lightning, Never Been Kissed) as a small town pastor "who is forced to contend with an act of forgiveness when the convict he forgave for murdering his wife returns to town five years later." Meanwhile, the late Anne Heche (Six Days Seven Nights, Volcano) stars as a sheriff investigating another murder which may be related.
Kellan Lutz (Twilight series, The Expendables 3) plays the convict who returns to town with his own dark agenda; Marcus Gladney Jr. (The Underground Railroad) will play the pastor's estranged son, and Stelio Savante (The Chosen) features as Heche's small-town deputy.
Production took place over five weeks last September and October in Amarillo, TX. A total of 17 JPCatholic alumni and four current students served in various roles on set, representing over a quarter of the film's crew.
Scoggins has been a Professor of Film at JPCatholic since 2008, where he also served as Producer for the university-produced feature film Red Line(2013). Scoggins' previous credits for writing and directing include The Least of These (starring Isaiah Washington) and The Perfect Summer (starring Eric Roberts).
"I made What Remains from the heart," said Scoggins. "Not just the writing but the shooting too. Being able to include students and alumni was an opportunity to make this movie the way I've dreamed — with focus, determination, kindness and commitment. I'm so proud of so many of the young filmmakers I've mentored over the years, grateful for the way they stepped up to the plate and delivered every day, and excited to celebrate this milestone."
After actress Anne Heche's tragic death in August, What Remains will be one of her final films to premiere posthumously. Scoggins recently wrote up a reflection in Variety on his experiences working with the actress: "Anne Heche Remembered by 'What Remains' Director: 'I Hope She Found Some Grace and Peace Along the Way'"
You can now rent or purchase the film on these platforms:
Watch the trailer below:
Anne Heche stars in her final role in Nathan Scoggins' passion project ​​​​​​​'What Remains.' Watch the exclusive new trailer from @GravitasVOD: pic.twitter.com/JXAm9EZbnb

— Collider (@Collider) November 9, 2022