First Graduation: December 12, 2009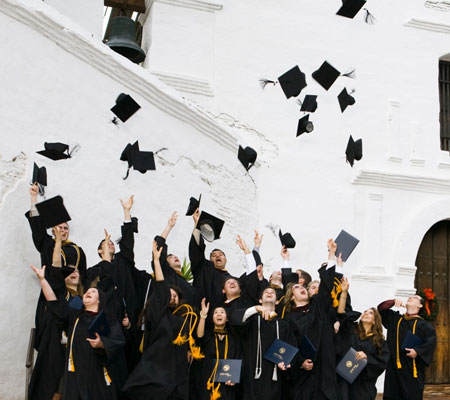 A truly significant milestone for our students, their families, our faculty, benefactors and friends.
It celebrated:
the successful completion of a journey for a pioneering group - our 'first' students and now our 'first' graduates.
their parents for their ongoing support and encouragement.
committed faculty for their long and patient hours spent in forming these graduates.
the priests who brought Jesus in the Eucharist and His healing in many hours of confession.
the extraordinary generosity and unwavering confidence of our benefactors and friends.
Commencement speaker Pat Lencioni (who is the author of eight best-selling books with over 2.5 million copies sold. His book 'The Five Dysfunctions of a Team' continues to be a fixture on national best-seller lists) compared the first graduates to other illustrious rag-tag groups like the 12 Apostles (who had no cathedrals) and our nation's Founding Fathers (who had no Washington Capitol buildings). He considered it a rare and amazing experience to be at this first graduation.

Prof Chris Riley reminded the Media students that 'a story is a hero's struggle against an obstacle to reach a goal.' He said. 'Today, we have come to the end of the story you've all been living. You're the heroes of this story and now you need a new story.' He charged the new graduates to 'Go, leave this place and walk into the dark' and to 'light up the darkness'.

President Derry Connolly described the miracles - the 'hand of God' in the building of JPCatholic and commended the students and their parents for their trust. Graduation senior Matt Salisbury reminisced about the journey and contrasted the first media class in a fourth grade classroom to the current state of the art sound stage, camera equipment and editing lab.
Reflections of the Inaugural Class For many of the new graduates, coming to JPCatholic in the fall of 2006 was a leap of faith. Steve Marshall, the graduating class Valedictorian, was so taken by the mission of the school and its unique programs that he jumped into the inaugural class a month before the start of school. ... (Read more)
John Paul the Great Catholic University
10174 Old Grove Road, Suite 200, San Diego, CA 92131
Phone: 858-653-6740 FAX: 858-653-3791
email: Info@JPCatholic.com