JPCatholic President: Derry Connolly, PhD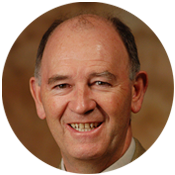 Dr Connolly has served as the Founding President of John Paul the Great Catholic University since its conception in 2003.
Teaching
Derry holds a PhD in Applied Mechanics from Cal-Tech in Pasadena, CA and both an MSc & BSc in Mathematical Science from University College, Cork, Ireland. He holds 8 US patents and has numerous technical publications.
Teaching
Derry has a passion for students and teaching.
At JPCatholic he teaches Entrepreneurship, Business Model Innovation, Entrepreneurial Thinking, and Strategic Marketing Management. He mentors students in the business creation process as part of JPCatholic's Business LaunchPad.

At UCSD, he teaches Bio-Business within the Bioengineering department's Medical Device Engineering graduate program. The department ranks 2nd in the nation for biomedical/bioengineering (US News - Mar 2015). Prior to that, he taught Entrepreneurship to graduate Engineering students through the Von Liebig Center for Entrepreneurism and Technology Advancement.
Career
Prior to JPCatholic, he worked at the University of California, San Diego from 1997 to 2009 where served on the Executive Board of the Center for the Commercialization of Advanced Technology (CCAT). He previously served as the Associate Dean of Continuing Education at UCSD Extension, leading a program with 40,000 part-time adult students. Prior to UCSD, Dr Connolly spent 15 years working in industrial Research and Development with IBM and Kodak.
Family
Derry and his wife Lidy have five children and a growing number of grandchildren. They attend Our Lady of Mount Carmel parish in Rancho Penasquitos.
Contact