Dr. Samuel Keyes Ordained to the Priesthood
June 29, 2021
Dr. Samuel Keyes, Professor of Theology at JPCatholic, was ordained to the Roman Catholic priesthood today at the Cathedral of Our Lady of Walsingham in Houston, TX. His ordination follows the recent ordinations of two JPCatholic alumni, Fr. Roni Schamoun and Fr. George Perez.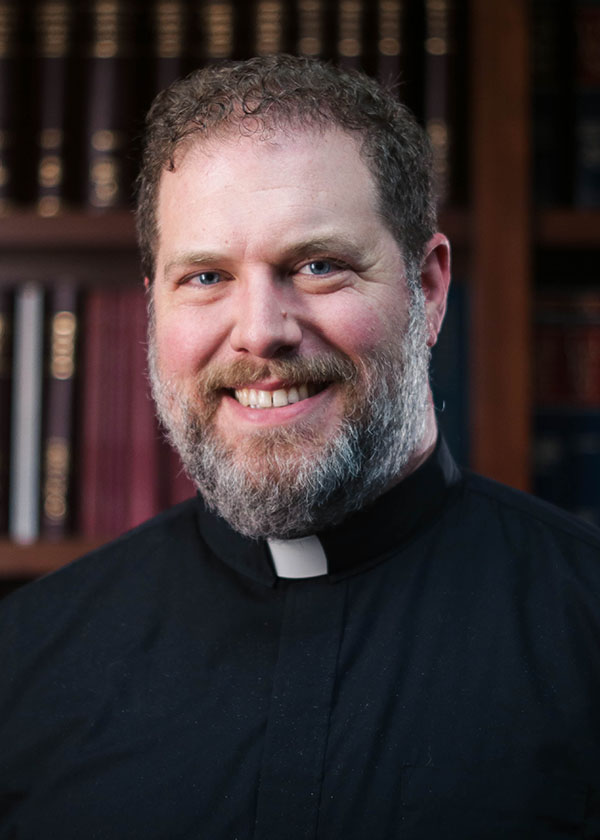 Keyes was raised Baptist and converted to the Anglican Church as a young adult. He served as an ordained priest in the Anglican tradition from 2011-2019, working at parishes in Massachusetts, Alabama, and Saint James School in Maryland.
On Pentecost of 2019, Keyes and his family were received into the Roman Catholic Church. He has spent the last two years in formation through the Ordinariate of the Chair of St. Peter, which was created by Pope Benedict XVI for people nurtured in the Anglican tradition who wish to become Catholic. The Ordinariate is equivalent to a diocese, but spans a wider geographic area; it is based in Houston and has more than 40 parishes and communities throughout the U.S.A. and Canada. Last May, Keyes was ordained as a transitional deacon on his journey to the Catholic priesthood.
Keyes began teaching at JPCatholic in the Summer Quarter of 2019. His resume includes an M. Div. from Duke Divinity School and a PhD in Theology from Boston College. Although his academic specialties include liturgy, Church history, and medieval theology, he also has an avid interest in the relationship between theology and pop culture, which attracted him strongly to the university's mission.
Fr. Keyes will celebrate a Solemn Mass of Thanksgiving at Our Lady of Mt. Carmel in San Diego, on Saturday, July 10th at 1:00pm. The liturgy will be celebrated in the ordinariate form.
Watch a short video on Dr. Keyes' conversion story which we published earlier this year: