JPCatholic Feature Film "O, Brawling Love!" Wraps Production
June 29, 2022
Escondido, CA – O, Brawling Love!, the first project in John Paul the Great Catholic University's Feature Film Program, finished filming on Tuesday. The film was shot primarily in Escondido, using locations such as Escondido Charter High School, Grape Day Park, various homes, and the university's soundstage. Over fifty JPCatholic students of various majors, along with several alumni, were involved both on and off set.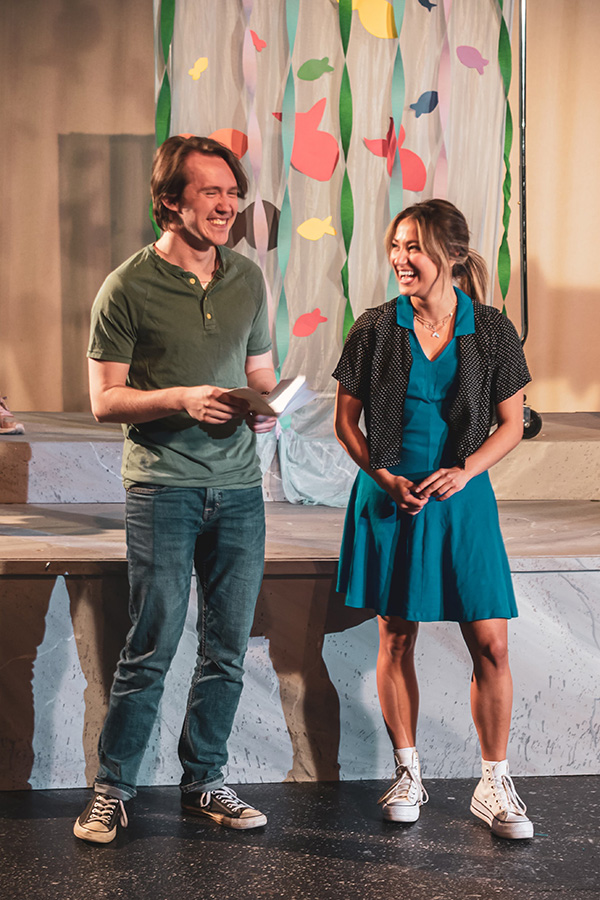 John Howard and co-star Yelena Friedman
Prof. George Simon, Chair of Communications Media, is spearheading JPCatholic's Feature Film Program. He announced the initiative last year as a way to integrate feature film productions into the curriculum, providing students the opportunity to collaborate with alumni and professors each year in bringing a new film to life. "This program is made possible by the talent, creativity, and passion of our students," he said. "Every day on set, these filmmakers set a standard of excellence and professionalism that is truly remarkable. We all knew it was possible to pull off a feature film with our students, but they didn't just pull it off, they knocked it out of the park."
As previously announced, JPCatholic's faculty selected O, Brawling Love! from a pool of nearly fifty student and alumni pitches. An original story by senior screenwriting student Bella Lake, the script is about two rival acting students who are forced to reconcile their differences and play lovers Romeo and Juliet in their final school play, vying for a $25k cash prize.
The film was directed by JPCatholic alumna Maggie Mahrt ('10), whose resume includes work for Disney Digital, Paramount Studio, and NBC. In 2016 she was selected as one of eight women by the American Film Institute's Directing Workshop for Women, through which she wrote and directed the award winning short film Unbound.
Over the past several quarters, students and faculty have been busy with courses on story development and pre-production applied directly to planning the project. Production spanned June 2nd-28th, taking place primarily during the break between Spring and Summer quarter.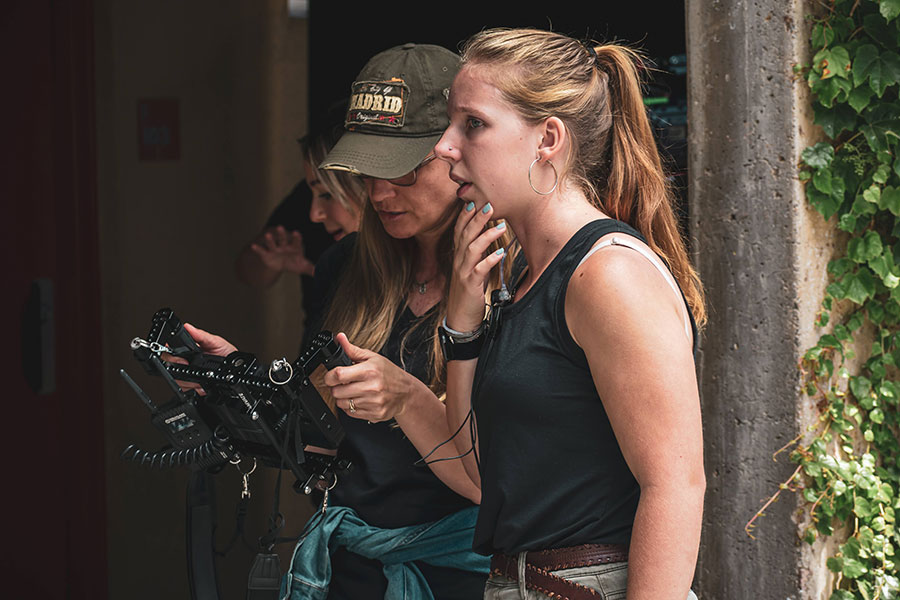 Director Maggie Mahrt (left) and 1st AD Katie Gerlach (right) review a shot on set.
Senior film student Katie Gerlach served as 1st Assistant Director on the film. She said, "Between creating schedules, location scouting, and making endless spreadsheets and documents in pre-production, to being one of the first people on set each morning and one of the last to leave at night, this set has been absolutely exhausting - but in the best way possible. O, Brawling Love! has not only reminded me why I want to be a filmmaker, but it has helped me to become better at my craft."
Several students also acted in the project, including senior film and acting student Maria Gajdosik, who played the role of the main character's best friend Hannah. "It was such an exhilarating experience to create a feature film alongside the students with whom I have grown and learned throughout my time here at JPCatholic," she said. "For this to have been our last hurrah together in college before working together in the industry, there couldn't have been a better send-off for all of us than this project."
Senior acting student John Howard was cast as the male lead named June. He participated in the blind audition process with Mahrt, and was selected from a pool of over 50 candidates from both inside and outside the school. "Starring in a feature film was a big step up from acting in short films," he said. "The opportunity for deep character development as well as working with a top-notch director and crew really made me feel as if I could perform to the absolute maximum of my ability. It was a welcome and rewarding challenge."
With production complete, Prof. Melinda Simon will lead a team of students this quarter in editing the project. Like previous stages of the film, the post-production experience is a class students are taking for credit. Student Amaris Abraham is slated to compose the score. When the film is completed in late 2022 or early 2023, the university will seek distribution.
In the meantime, submissions are open for the 2023 Feature Film Program project. All JPCatholic students and alumni are invited to pitch their story idea by July 4th. Everyone is invited to attend the 2nd Annual Feature Film Pitch Night on October 15th.
Photo Credit: Andrew Glaudini