Parking Policy
This page provides a summary of the parking policy.
For more information, please see the Student Handbook.
All faculty, staff and students must register their cars. Due to limited space, JPCatholic strongly discourages students from bringing cars to campus and each student is only allowed one car.
Residential and commuter students must purchase a Parking Permit for their cars for $35/quarter. Residential students will be charged $200/quarter to park at Latitude, which includes the $35/ quarter fee.
NOTE: Student, staff, and faculty parking is prohibited AT ALL TIMES on:
Grand Avenue between Centre City and Kalmia.
S. Maple Street between Grand and 3rd.
Broadway between Valley Parkway and 3rd.
City parking lots, including the lot bordered by Maple and Valley Parkway, and the lot bordered by Maple and 2nd.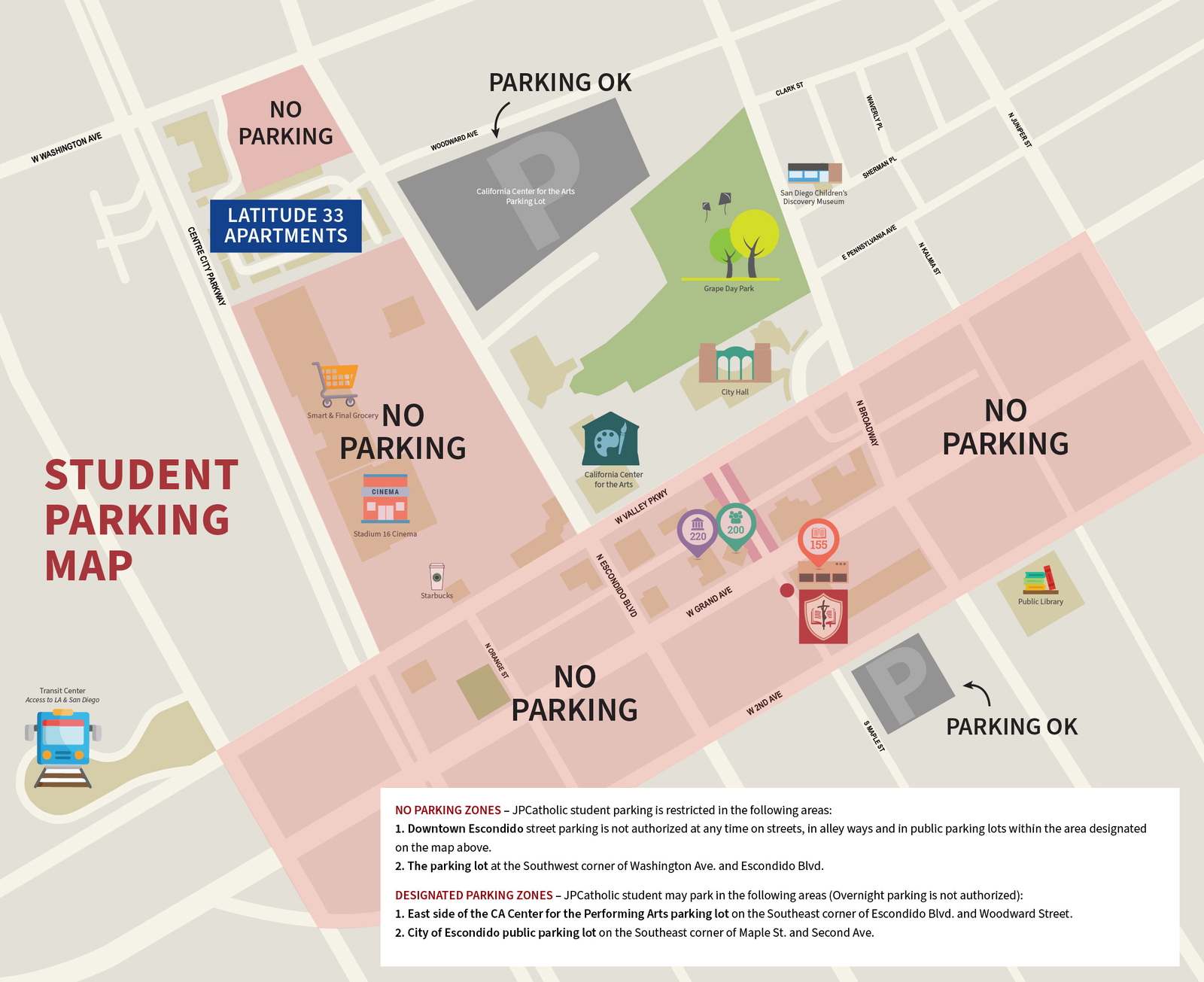 JPCatholic student parking is restricted in the following areas:
Downtown Escondido street parking is not authorized at any time on streets, in alley ways and in public parking lots within the area designated on the map above
Rite Aid on the Northeast corner of Washington St. and Escondido Blvd. and the shopping center area to the South of Latitude 33 residence facility
Designated Parking Zones
JPCatholic students may park in the following areas (Overnight parking is not authorized):
East side of the CA Center for the Arts parking lot on the Southeast corner of Escondido Blvd. and Woodward Street
Parking violation fines are: $100
Staff working in the Administration buildings (200 and 220 W Grand Ave) may park in the building parking lots.
Faculty may park in designated spaces in the Faculty Building at 220 W. Grand Ave.
Handicap and guest parking is located at the Administration Building located at 200 W. Grand Ave. or on Maple Street
Campus property at 131 S. Broadway (future Creative Arts Academic Complex)
Students
Commuters: JPCatholic has an agreement with the City of Escondido to provided 50 reserved spaces during the hours of 8:00 am and 5:00 pm, Monday thru Friday in the city lot on the corner of Escondido Avenue and Woodward Avenue. After these hours, you may park in that parking lot but the spaces are no longer reserved specifically for JPCatholic.
Residential Students: For a fee of $200/quarter (see above) Latitude garage and reserved parking spaces will be given out in the following order:
Seniors
Juniors
Sophomores
Freshmen
All gate openers/fobs must be rented from JPCatholic.
Gate openers are NOT available from the Latitude 33 leasing office.
Garage openers require a $100 deposit, which will be returned when the remote is returned. You will be assigned a parking space or garage and you must park in that spot. Overnight parking is not permitted by students or guests in the Rite Aid or Movie Theatre parking lots near Latitude33.
Parking Policy Enforcement
Parking at the apartments will be enforced by Latitude Apartment Security personnel and the JPCatholic Director of Student Life. Parking within the Latitude33 complex is only authorized in designated areas and violators will be cited by University staff or towed at the owner's expense. Parking violation fines are: $100