Year Round Structure
Students finish their degree program in 3 years rather than the traditional 4 years.
JPCatholic's mission is to shape innovators and creators, leaders and entrepreneurs at the intersections of communications media, business and theology.
The traditional 'agricultural' model for higher education with its long summer vacations does not support the JPCatholic mission. The long vacation breaks cause a significant loss of learning and are a major disruption to the student business creation process.
JPCatholic seeks to create in their students a sense of urgency for their future. College often delays the transition to 'manhood and womanhood' for our young people. There is an urgency about our dual mission of evangelization and of impacting our culture for Christ.
Degree Programs - Year Round Structure: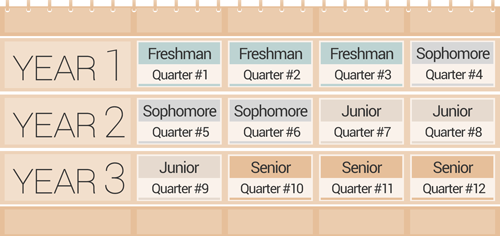 Approximate Dates for each Academic Quarter and Vacations:
| Quarter | Approx Date |
| --- | --- |
| Fall - begin | October 1 |
| Fall - end | December 15 |
| Christmas Break | 2 weeks |
| Winter - begin | Jan 2 |
| Winter - end | March 16 |
| Easter Break | 2 weeks |
| Spring - begin | April 1 |
| Spring - end | June 15 |
| Summer Break | 2 weeks |
| Summer - begin | July 1 |
| Summer - end | Sept 10 |
| Fall Break | 2 weeks |