"O, Brawling Love!" Premieres at the Ritz Theater
August 25, 2023
Last night JPCatholic premiered O, Brawling Love! at the Ritz Theater in Escondido. The Shakespearean-inspired rom-com is the first project in JPCatholic's Feature Film Program, an initiative the University launched in 2021 to integrate annual feature film productions into the curriculum.
"This is a huge milestone for the Feature Film Program," said Prof. George Simon, who spearheaded the curriculum. "Our students and alumni worked incredibly hard on this film and demonstrated that they are capable of telling incredible stories on a feature length scale."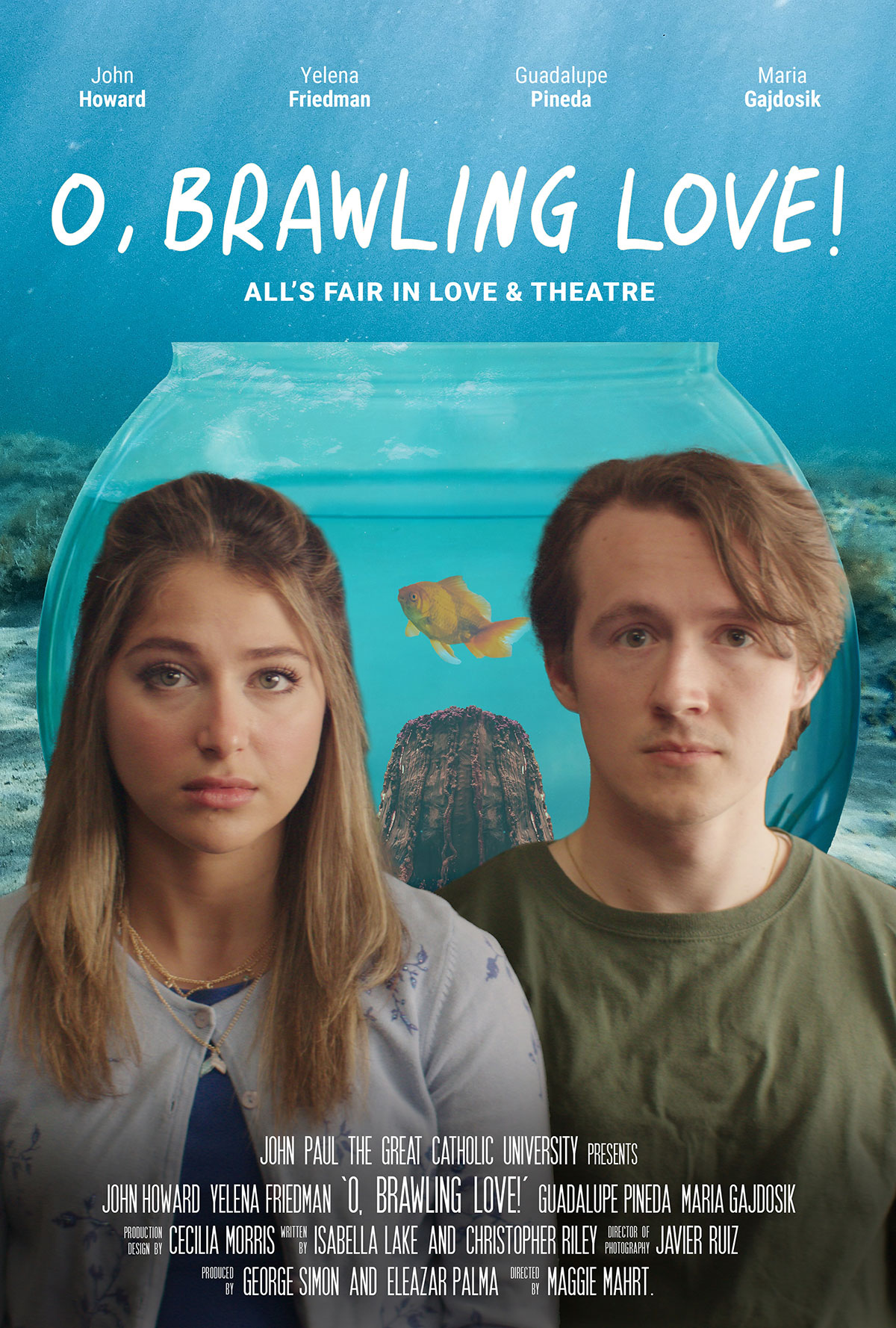 O, Brawling Love! was pitched by student Isabella Lake ('22) at the first Feature Film Pitch Night in October 2021. Directed by alumna Maggie Mahrt ('10), production took place over several weeks in summer 2022 in Escondido and surrounding area. Over 50 JPCatholic students were involved in the production both on and off set.
The story centers on two rival acting students Saf (Yelena Friedman) and June (John Howard), who are cast to play lovers Romeo and Juliet in their high school play, vying for a life-changing prize. She comes from a wealthy home with an emotionally abusive mother; he's from a poorer family whose deep care for each other is usually masked in sarcasm. These starkly differing family dynamics provide the backdrop for a comical journey of selfishness, misunderstanding, and compassion.
"Playing June was an incredible experience to say the least," said Howard, who graduated from JPCatholic in 2022. "It's truly magical to see all the hard work we did on set last year come together on the screen. The best part was being surrounded by friends as we all watched the story unfold for the first time in the theater. So grateful to everyone who brought this story to life!"
The film will be available for streaming later this year. Follow @jpcatholicfeaturefilms on Instagram for updates.