JPCatholic Acquires Relic of St. John Paul II
October 23, 2023
John Paul the Great Catholic University is excited to announce that we have received a second class relic of our namesake, Pope Saint John Paul II. The relic is ex indumentis, a piece of his papal garment. It was donated to the university this year by Bishop Paolo De Nicolò, who served under John Paul II in the Prefecture of the Papal Household.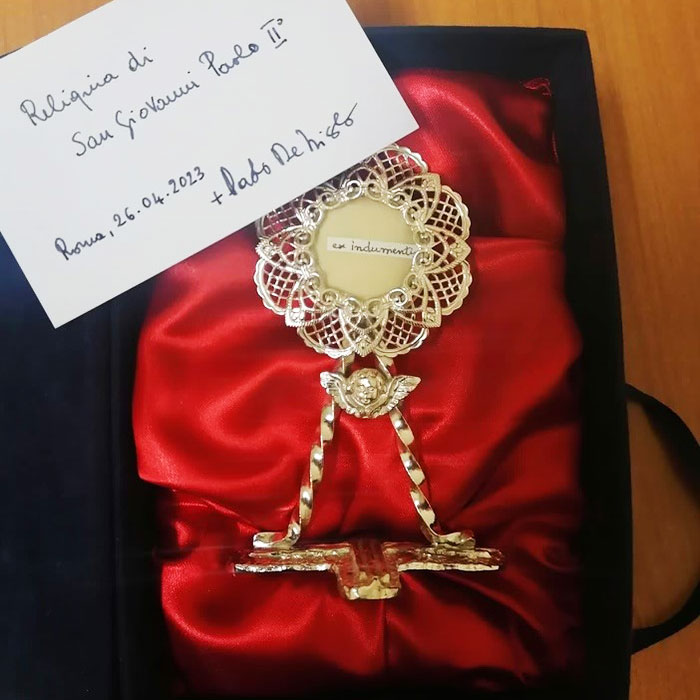 The relic was announced to the student body on Oct. 22nd, the saint's feast day, and installed in Our Lady of the Sacred Heart Chapel on campus today.
"It is such a blessing to finally have a significant relic of Pope St. John Paul the Great on our campus," said Dean of Students Eleazar Palma. "This will bring our community here so much closer to our patron! We are very thankful to Bishop Paolo De Nicolò for bestowing us with this honor!"
The relic joins three others in our chapel; St. Joseph of Cupertino, donated to the university by Clayton F. Bower in 2010 alongside 20,000 books for our theology library; St. Thomas Aquinas; and St. Thérèse of Lisieux.
St. John Paul II, pray for us!