Founding Team
The formation of John Paul the Great Catholic University reflects the power of God to harness the invention, voluntary initiative, and moral imagination of the founders, the Board of Trustees and many other advisors and to couple it with the extraordinary generosity of many benefactors to create an institution that seeks to invent the future of Catholic higher education.
The key people in the founding of John Paul the Great Catholic University include:
Derry and Lidy Connolly
whose 'yes to God' moved the founding vision forward. Both spend many long hours building and providing the glue for JPCatholic. Two of the 5 Connolly kids attended the University - daughter Joan graduated in the inaugural class and Joe in the second class.
Alan and Debbie Lane
whose extraordinary generosity with time, talent and treasure were critical to launching JPCatholic. Above all, the deep love for the Lord and the prayers of the Lane family have been a rock for JPCatholic. Three of the 5 Lane kids attended the University - son Chris graduated in the inaugural class, Katelyn in the second class, and Mary in the third class.
Paul and Maureen Colucci
whose contributions of time, talent and treasure, along with his living faith and good humor, has provided a cornerstone to JPCatholic.
Tom and Carrie-Anne Dunn
whose passion, quiet presence, technical talent and commitment has been always available to JPCatholic and its students.
Christopher Riley, Jerry Jackson, Nathan Scoggins
critical and very committed faculty, who have been with us from the beginning, are 'gifts from God' to the Institution.
Martin and Sara Harold
whose commitment to mission and persistence in walking students (and parents) through the admission process. Martin reinforces daily the most important mission of the University - to 'transform' students - enabling them to encounter Jesus Christ. Sara has produced an endless stream of graphic design pieces for the University.
Kevin and Joan Meziere
built our computer network as a college freshman volunteer. Kevin masterminded our Escondido campus.
Founding Board of Trustees
Derry Connolly: President, John Paul the Great Catholic University
Philippe Dardaine: Owner - La Provence Bakery, San Marcos, CA.
+ Wes Fach: former Attorney at Law, Poway, CA.
Scott McKenna: Owner - Gardner Pool Plastering, El Cajon, CA.
Ed Snow: Owner - TTM Engineering, San Diego, CA.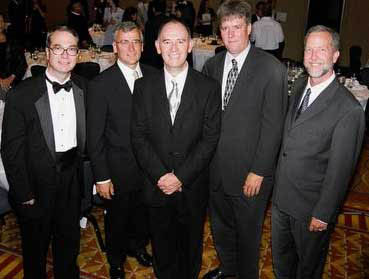 The founding Board of Trustees, photographed at the Inaugural Gala, from left to right, are: + Wes Fach, Philippe Dardaine, Derry Connolly, Ed Snow, and Scott McKenna