Architecture
The imposing 5,000 sq. ft. structure was built in 1925 in the Mediterranean Revival architectural style, which was popular in California in the 1920s and 1930s, and drew heavily on the style of Mediterranean palaces and seaside villas. The rectangular building features a large, symmetrical primary facade with stucco walls and a red tiled roof. Architect Louis Gill is considered 'as one of the greatest architects in San Diego's past.' He was nephew and one-time business partner of Irving Gill, another famous San Diego architect.
Our Rapidly Growing Student Body
As the student body grows rapidly – a permanent chapel is critical for the students spiritual formation. When complete, the Chapel will greatly enhance our community's spiritual life - offering daily Mass and perpetual adoration for students and visitors.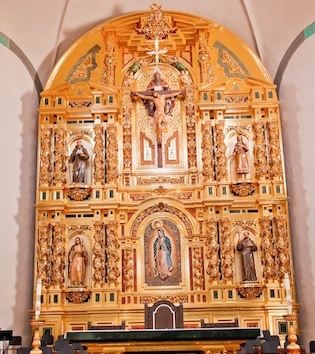 Chapel Interior Design
To create a deep sense of the sacred - the altar along with the tabernacle will be the principal foci of the chapel. We envision a magnificent reredos (retablo in Spanish) behind the altar to significantly enhance the beauty and sacred character of the chapel. Pictured are the retablos from both Wymondham Abbey, Norfolk, England and Mission San Juan Capistrano, CA.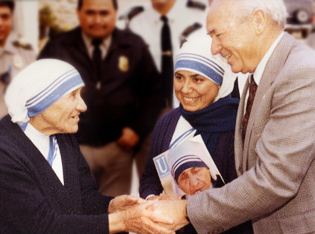 Chapel Naming
Mother Teresa of Calcutta Chapel - named at the request of Terry & Barbara Caster, who were introduced to Mother Teresa in 1988. The Casters began supporting her Mexico ministry and together they built an orphanage and shelter for homeless in Tijuana.

The naming honors the Caster's extraordinarily generous gift to the University, which enabled us to acquire a large and critical piece of downtown Escondido real estate to house our film studios, an auditorium, library, and faculty offices.

Mother Teresa's canonization is expected on September, 4th, 2016.