Celebration Gala - November 11th, 2006
Celebrate the opening of the first Catholic university in California in almost 40 years. Be a part of history. Meet with and celebrate our Freshman students, their parents, our faculty, trustees and the truly generous benefactors whose extraordinary generosity has enable this dream to become a reality. The Celebration Gala is November 11th at the Hyatt Regency La Jolla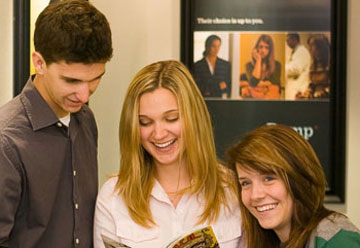 'The future starts today, not tomorrow'
is one of John Paul the Great's many notable quotes.

JP Catholic students have answered Pope John Paul's call for a New Evangelization, his call to understand today's culture and to use the media to evangelize.

Gala Schedule

6pm - Reception
7pm - Dinner
9pm - Final prayer


Keynote Speakers:

Eduardo Verastegui


Eduardo grew up in a village in Northern Mexico. At 18, he left to pursue a career in entertainment in Mexico City. He toured the world as a singer in the Mexican pop sensation Kairo. As an acclaimed solo recording artist, he performed sold-out concerts in over 13 countries. He starred in five highly-rated 'telenovelas' (soap operas) for Televisa broadcast in over 19 countries. He has appeared opposite Jennifer Lopez in one of her most famous music videos 'Ain't it funny!'. In 2001, Verstegui won the starring role in 20th Century Fox's first ever Latino-driven film 'Chasing Papi'. He subsequently co-starred in an indie film called 'Meet Me In Miami' and has appeared in such primetime TV series as 'CSI:Miami, ' 'Charmed,' and 'Karen Cisco'. In 2004, following an inspiration to transform his image, Verstegui left his agency and management and teamed with committed Catholic friends to form Metanoia Films, a company committed to projects that entertain, engage and inspire. Their first movie Bella recently won the prestigious Peoples Choice Award at the 2006 Toronto Film Festival.
Michael Barber - Professor of the Theology, Scripture and Catholic Thought at JP Catholic

Michael has an M. A. in Theology from Franciscan University and is in the midst of his Ph.D. in Theology at Fuller in Pasadena, California. He received his B. A. in Theology and Philosophy from Azusa Pacific University. He is a Catholic author, speaker and radio host. He has written two books, 'Singing in the Reign: The Psalms and the Liturgy of Gods Kingdom' and, a brand new book, 'Coming Soon: Unlocking the Book of Revelation and Applying Its Lessons Today.' He has a new weekly radio show, Reasons for Faith Live, which is heard on EWTNs Radio Network every Friday at 11am Pacific Coast Time. Michael has been granted the mandatum by Robert Brom, bishop of San Diego as an ecclesial recognition of Michael's posture and commitment to teach always in communion with the Church.




Your Support
Options
Individual
Tickets

Tables
of 10

Silver

$125

$1250

Gold

$200

$2000

Platinum

$250

$2500
Select this link to purchase or reserve your tickets now!
After reserving your tickets you may pay using a credit card (using PayPal - the secure online payment system) or mail your payment to:
Gala Chair, John Paul the Great Catholic University; 10174 Old Grove Road, Suite 200, San Diego, CA 92131