Alumnae Win Emmy for Documentary on POW Hero Fr. Kapaun
July 19, 2023
JPCatholic alumnae Haley Rossi ('14), Danielle Conklin ('14), and Jessie Schiffer ('14) were awarded an Emmy on July 15th for their work at Spirit Juice Studios on the documentary short film Fr. Kapaun Comes Home.
The film won in the "Documentary - Historical" category, which was announced at the 2023 Heartland Emmy Awards in Denver. Rossi was director and cinematographer on the project, with Conklin producing and Schiffer serving as field producer on site. The three JPCatholic graduates share the award with Christian Surtz, Rob Kaczmark, and Seneca Lester.
"It's such a gift to have found a calling as a storyteller through film," said Conklin. "I'm deeply moved when I get to be a part of stories like this one about a faithful and selfless future saint. It was a joy to work with the Diocese of Wichita and Fr. Kapaun's family to capture this momentous journey home."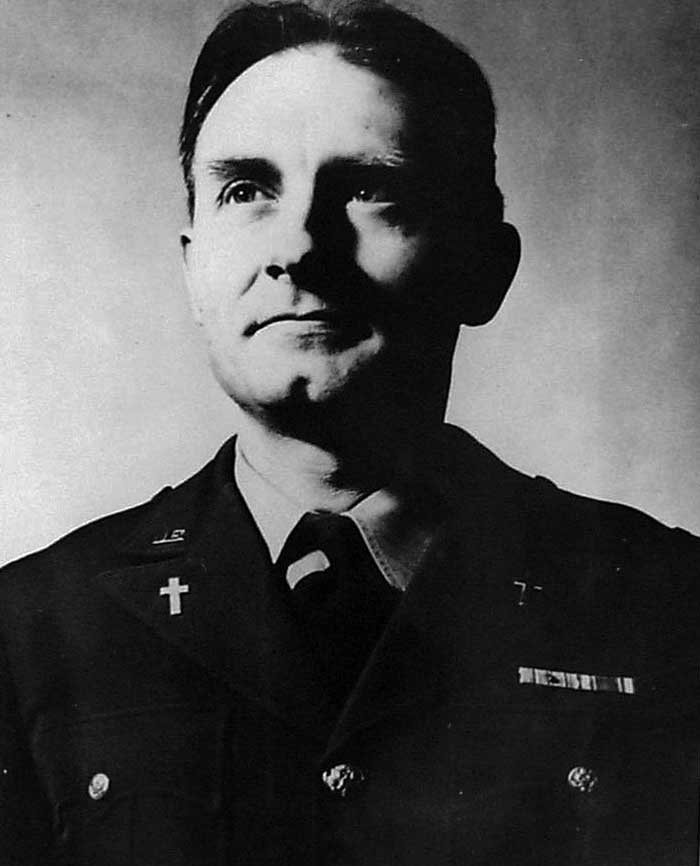 Servant of God Fr. Emil Joseph Kapaun
Fr. Emil Joseph Kapaun was a chaplain with the US Army who served in WWII and the Korean War, frequently risking his life to rescue the wounded and bring the sacraments to those on the battlefield. In 1950 he was taken prisoner and endured an 87-mile death march to a prison camp in North Korea. During these final months of his life, in grueling conditions with starvation, extreme cold, disease, and lice, Fr. Kapaun served as a beacon of hope to his fellow prisoners, tending to their physical and spiritual needs. He died as a POW in 1951 at age 35.
Kapaun posthumously received the Purple Heart, Legion of Merit, and Medal of Honor from the US Military for his "extraordinary heroism and selflessness." In 1993, Pope John Paul II declared Fr. Kapaun a Servant of God, the first step toward a possible canonization.
In 2021, the DPAA (Defense POW/MIA Accounting Agency) announced that Fr. Kapaun's remains had been positively identified. Since the 1950's his body had been resting in the Military Cemetery of the Pacific as an unknown Korean War soldier. Fr. Kapaun Comes Home was created by Spirit Juice Studios, with the support of the Diocese of Wichita and the Kapaun family, to document the return of his remains from Hawaii to his home state of Kansas.
"It was truly a privilege to learn about the life of Fr. Kapaun and meet the POWs who served with him," said Schiffer. "I was heartened by the deep respect that the military showed him."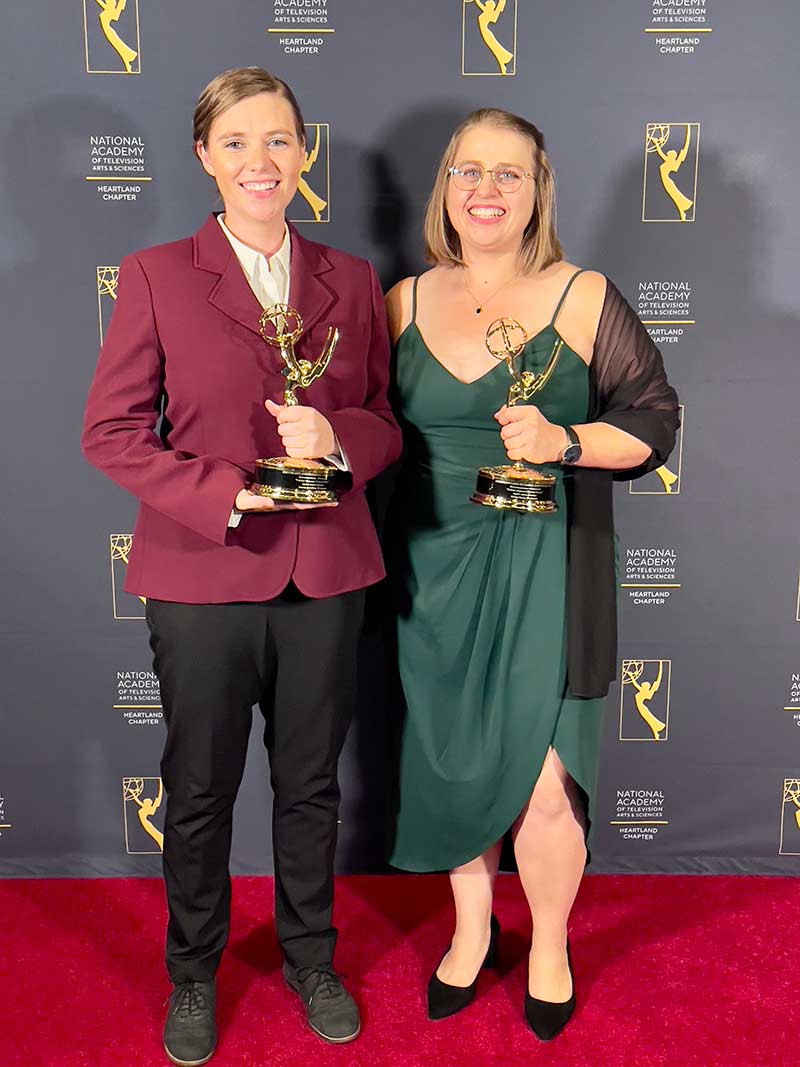 Jessie Schiffer (left) and Haley Rossi (right)
Fr. Kapuan was interred at the Cathedral of the Immaculate Conception in Wichita, Kansas. Bishop Kemme of the Diocese of Wichita concludes the documentary with an invitation to come visit the tomb and pray for Father Kapuan's canonization.
"I am incredibly grateful to have had the opportunity to tell the story of a true hero, and document his journey home," said Rossi. "I owe thanks to the whole team for their dedication, and work on this piece, it wouldn't have been possible without them. My hope and prayer is that the story and legacy of Father Kapaun will continue to inspire people to live a life of sacrifice and love for others. Servant of God Father Emil Kapuan, Pray for us!"
This Emmy is the second one for Rossi, who won her first Emmy in 2022 on another Spirit Juice Studios project Fill These Shoes. It is the third for Conklin, who has previously won for Who is the Priest? and The Gil Hodges Story: Soul of a Champion. There are now four JPCatholic alumni with Emmys, as Melinda Simon ('10) previously won three Emmys for her work with the studio.
Fr. Kapaun Comes Home is available to view online here.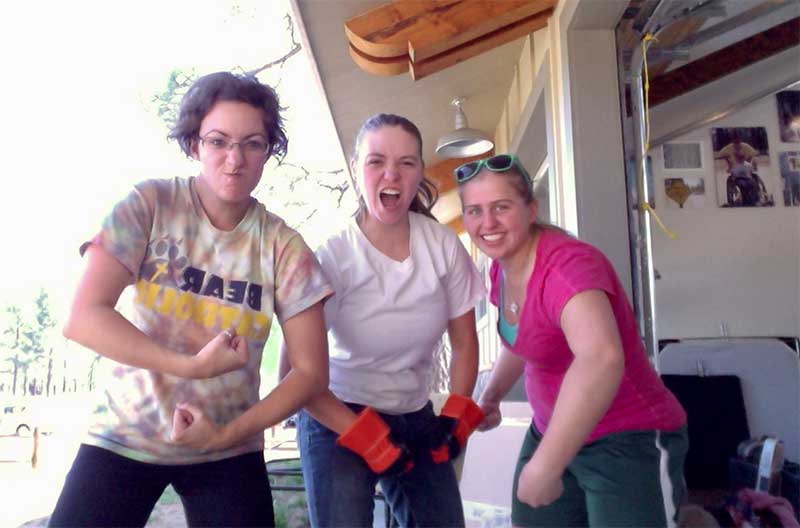 Conklin, Schiffer, and Rossi on their first film shoot together at JPCatholic in 2013.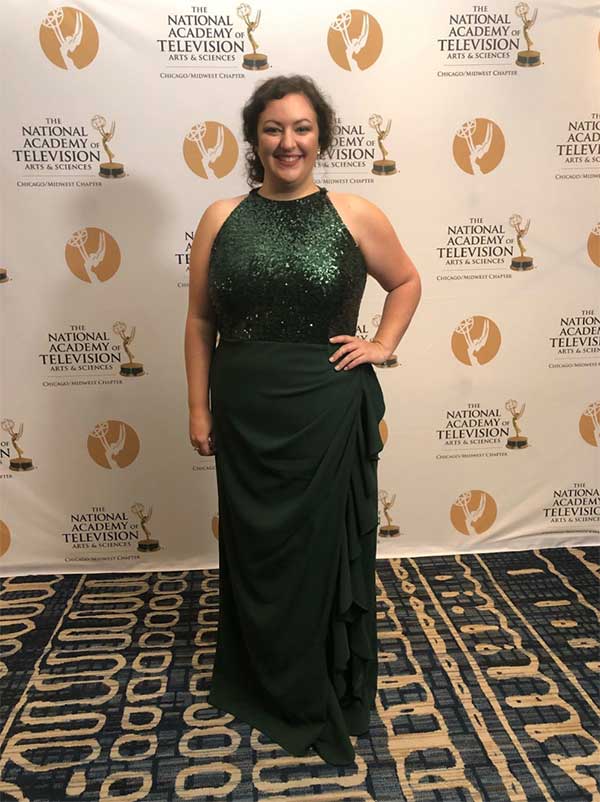 Conklin at the 2018 Chicago/Midwest Emmys