Faculty's Film Screening: "Don't Get Eaten"
August 15, 2023
On Sunday, August 13th, Profs. George and Melinda Simon held a private screening of their indie feature Don't Get Eaten at The Ritz Theater in Escondido. The zany family-friendly comedy is about a streamer named Noah who creates zombie survival videos with his daughters – until an actual zombie apocalypse disrupts their family's weekend getaway.
The film was written and directed by George and his brother Joe Simon, and produced by Melinda (Collins) Simon, who also stars. All three are alumni of JPCatholic, and
Don't Get Eaten
is a passion project over a decade in the making. George completed and submitted the very first draft of the screenplay when he was a student at JPCatholic, just days before graduation.
"It's incredible to think back on all the events that transpired to make this movie possible," said George. "From finishing that first draft of the script on my balcony in college, to having a discussion with Melinda and Joe about making our first feature eight years later, to flying from San Diego to Michigan with seventeen suitcases and three small children to film the movie. It's been a ten year process and we are all so grateful that we were able to complete the journey."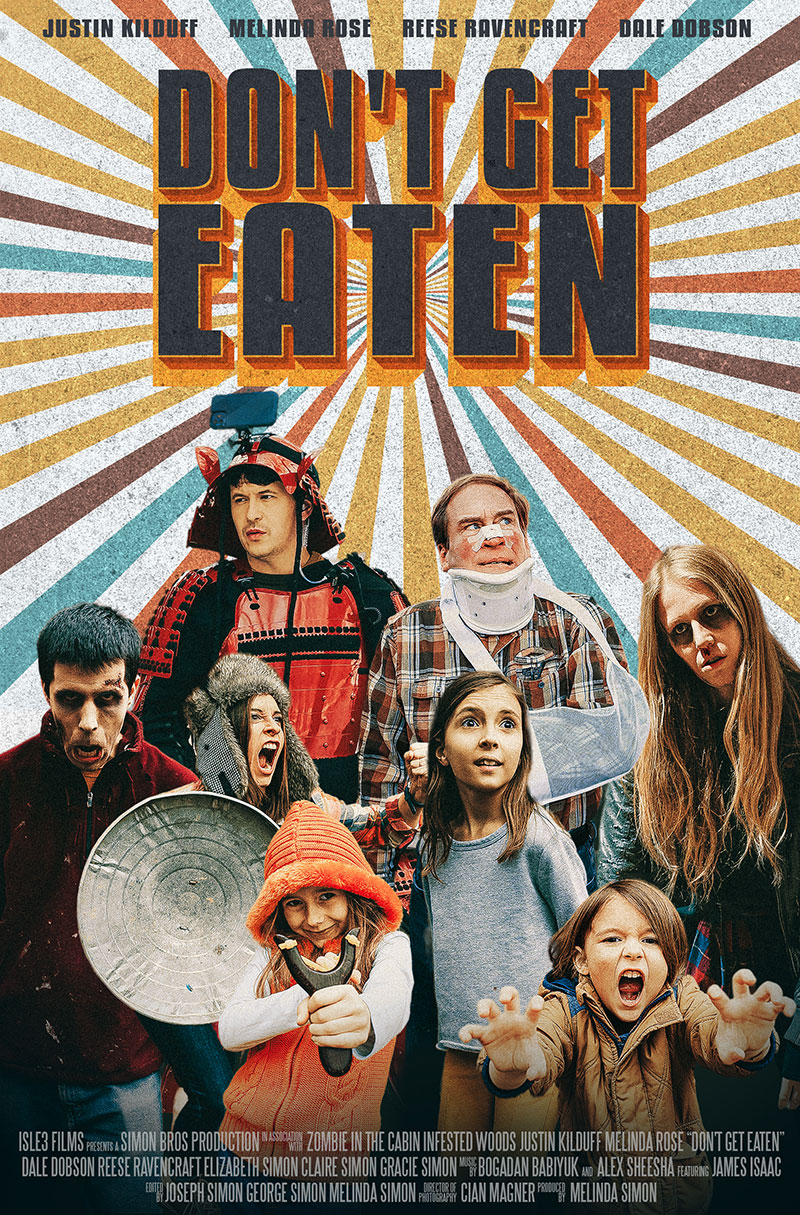 Since completing their degrees at JPCatholic in 2012 and 2013, respectively, George and Melinda have each worked in various sectors of the film industry for both secular and Catholic productions, including Emmy-winning projects with Spirit Juice Studios. Now married with three kids, they both teach at JPCatholic while continuing their career as independent filmmakers. They are a creative team, with George normally writing and directing, Melinda producing and editing. In recent years, their award-winning short films Almost Home and The Scar helped pave the way for their first feature length project.
Principal photography on Don't Get Eaten took place over four weeks in Michigan in March of 2022 with a small crew consisting completely of JPCatholic alumni and students.
"I was so fortunate to be asked to be a part of this project," said Cian Magner ('21) who was brought on as Director of Photography. "It afforded me the unique opportunity to work on an amazing passion project alongside the individuals who had been my mentors during my time as a student at JPCatholic. George, Joe, and Melinda are incredible filmmakers with a passion for creation that you can't help but be inspired by. I'll always look back fondly on our winter in Michigan together."
"Every person who worked on this movie was driven by love of the game and a genuine desire to support one another in this crazy life we've chosen as filmmakers," said Melinda. "I will never cease to be thankful for our crew. We faced some extraordinary challenges along the way, but this only makes me more proud of the movie we were able to create. We were all equipped by creativity, passion and technical skills that were not just fostered at JPCatholic, but fanned into flame."
Over the coming months, the Simons will be submitting Don't Get Eaten to festivals and pursuing distribution. They can be followed on Instagram @simonsmakesmovies.