"No Reception" Greenlit for Year 2 of JPCatholic's Feature Film Program
January 19, 2023
On January 13th, George Simon, Chair of Communications Media, announced which project has been selected for the second year of JPCatholic's annual Feature Film Program. No Reception, written by seniors Mark Westin and Natalia Roberts, was greenlit by JPCatholic's film faculty and will enter production this June.
The family-friendly comedy is about a posh city dweller who gets lost in the wilderness with nothing but his pepper spray, and is soon caught up in a longstanding feud between two forest hermits.
No Reception was pitched by Westin, a Film Production and Directing student from the Cayman Islands, during the first Feature Film Pitch Night in October 2021. While O, Brawling Love! was selected as that year's project, Westin continued to develop the story with Screenwriting student Roberts for reconsideration this year.
"The excitement is still setting in," said Roberts. "I remember story development for this script back when I was a freshman, so it's exciting that one of the first stories I remember starting here is being made into a feature."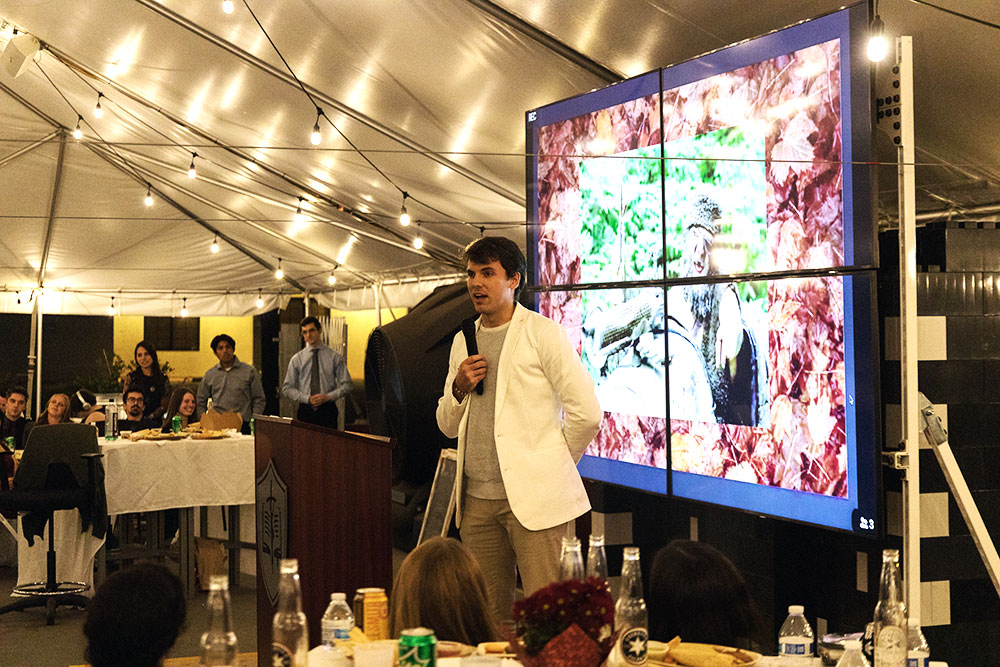 Mark Westin ('23) represents No Reception at the inaugural Feature Film Pitch Night in October 2021.
After the second Feature Film Pitch Night in October 2022, faculty narrowed down the pool of candidates to three projects. The consideration process for these finalists included analysis of marketing and distribution potential as part of Prof. Jeff Deverett's Advanced Distribution and Marketing Strategies class. In addition, faculty and students in Feature Film Pre-Production I assessed factors such as producibility, casting, production design, the student experience, and the strength of the current scripts.
The other two finalists optioned by the University were Collision Course by Anna McKellar ('23) and Skiing in Vermont by Philomena Pilon ('23).
"All of these projects represent hugely original, entertaining, amazing projects that are on mission, so we're very blessed to have such a fantastic pool of projects", said Prof. Simon. "No Reception is I think a particularly good fit for Year 2 of the Feature Film Program, because it's very producible on an indie budget, it's on mission, and it gives us opportunities to stretch ourselves from a production standpoint."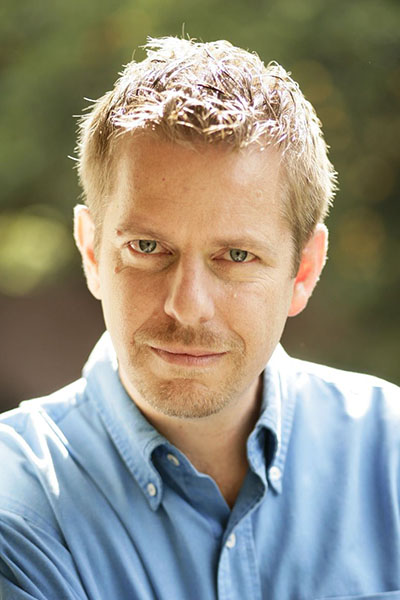 Prof. Chris Riley
Simon also announced that JPCatholic professor Chris Riley will be directing the project. Riley is a screenwriter with over 25 years of experience, and from 1995-1998 he worked as Manager of Script Processing at Warner Bros. His credits include work for Touchstone Pictures, Paramount Pictures, and Fox television network. He is known for authoring The Hollywood Standard, which serves as the definitive guide on script formatting, used by professional screenwriters and film schools across the nation. He recently directed the short film No Time Off For Good Behavior which was selected to play at the Sedona International Film Festival and the San Diego Black Film Festival. Riley has taught screenwriting at JPCatholic since 2007.
The Pre-Production I class comprises a core team of students in leadership roles such as First AD, Director of Photography, Producers, Casting, and Production Designers. Alongside faculty like Simon and Riley, they will immediately move forward in planning for production of No Reception, while the script continues to be refined. Next quarter the team will begin incorporating more students in supporting roles.
"I'm very excited to see how the story will develop over the course of the next few months as we prepare for principal photography," said Westin. "It's such a unique story that has a ton of growth potential, so I'm looking forward to seeing it come to life in new and fun ways."
While pre-production ramps up for No Reception, post-production continues for O, Brawling Love! Simon expects the film to be ready by summer to premiere on campus. In addition, this week the faculty are opening submissions for Year 3 of the Feature Film Program. JPCatholic students and alumni can submit their script ideas here.