Request Transcripts
The Office of the Registrar maintains student academic records and issues transcripts. When releasing transcripts, grades will be withheld for any terms for which there is an outstanding balance. Student academic records are classified as confidential and may be released only with the student's written authorization and signature, in accordance with federal law.
If you are looking for an unofficial copy of your transcripts, request a degree audit.
Official Transcripts
An official transcript is a comprehensive record of all courses completed at John Paul the Great Catholic University. Transcripts are $10.00 each. Payment can be made by check or cash. If you would like to pay via credit card, please contact the Finance Department at 858.653.6740 x 1302.
Transcript requests are processed in the order in which they are received. The normal processing time is two to three business days; however, during peak times this period may be longer. Please order your transcripts well in advance of any deadlines to allow sufficient time for transit to the destination.
Before Ordering Your Transcripts
Check and clear your holds: Contact the Finance Department for questions about outstanding account balances. While students may still receive transcripts, grades will be not included on transcripts for any quarters for which there is an outstanding balance.
Verify your grades/degree status are current: If you order a transcript without checking your records and your transcript is wrong, you are responsible for reordering and paying for another transcript. Contact the Registrar to verify your status.
Delivery Method
Please verify what method of delivery the recipient considers acceptable. If transcripts need to be resent, you will need to order (and pay) for another set of transcripts.
Mail
A mailed copy is the primary method of transcript delivery, as most institutions require transcripts be sent directly from the institution of origin (JPCatholic). First class mail takes on average 2-4 days. However, delays in the post office can extend this range and are outside our control.
Pickup
Transcripts are available for pickup at the Registrar's Office. Transcripts become unofficial if unsealed. Please be aware that many institutions do not accept transcripts if they have been in the student's possession. The student must pickup the transcripts in person, as we do not release records to a proxy.
Fax
Most institutions do not accept faxed transcript as official. If you want to send an official copy, it is recommended to choose the mail option.
We do not provide emailed or electronic transcripts.
Submit your transcript request
Please submit this form with payment to the Registrar's Office. Please print legibly.
Important: Any documents emailed to the Registrar's Office must be scan-quality. Photos of documents are not be accepted.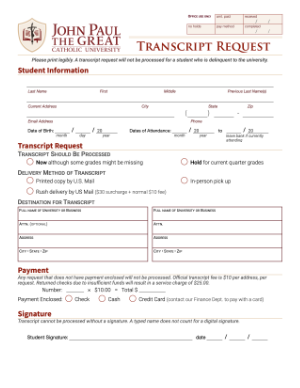 Transcript Request Form
Degree Audit
A degree audit is an unofficial list of the requirements for your degree and the courses you have taken. While degree audits are provided free of charge, they will not be released if there is a financial hold on the account.
For email delivery requests, the audit will be sent to the email address on file. To ensure your contact information is up to date, contact the Registrar's Office.
A degree audit does not substitute for the submission of official transcripts.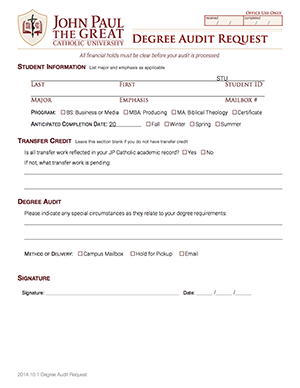 Degree Audit Request Form