Admissions Home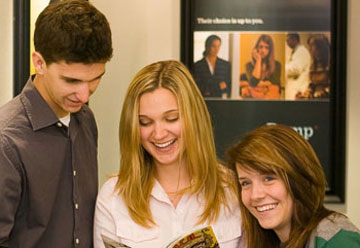 JPCatholic offers an outstanding education; a substantial curriculum; small classes; faculty who are both dedicated teachers and accomplished in industry; a supportive campus environment; and a network of accomplished and enthusiastic mentors.
But JPCatholic offers something more - the intimacy and flexibility of a small college combined with the strong commitment to Catholic orthodoxy.
JPCatholic is searching for a unique type of student, one who:
dreams about creating new forms of entertainment, innovating new ideas and pioneering new businesses
has the passion to explore and develop their God-given creative and innovative talents
has the confidence and excitement about being part of the future of media that new technologies are enabling
and above all believes that people who change the world - the people who really make a difference - are motivated by a love for Jesus Christ
Breadth of Knowledge and Interdisciplinary Perspective
The curriculum and campus life encourages a union of faith and reason, creativity and business, providing opportunities to put faith into action and turn creativity and ingenuity into business. JPCatholic curriculum brings together scripture and humanities, creativity and innovation, leadership and entrepreneurship, helping you gain an understanding of each and the synergies each can forge in the real world.
Global Cultural Understanding
You will learn about your culture and the many global cultures from a comparative perspective. You will come to recognize the ways your life and actions are influenced by the culture in which you live, preparing you to collaborate and compete in the global economy.
Social Responsibility and the Ethical Implications of Faith and Knowledge
You will learn to critically examine the social responsibilities and ethical implications of faith and knowledge. You will learn to evaluate the local and global impacts (positive and negative) of individual and collective actions as they are manifested in social, economic and political policy.
Understanding your major in Depth
You will study your particular major field in depth. You will experience the kind of mastery that will make you a competent practitioner of your chosen discipline. Prior to graduation you must demonstrate sufficient coherence, depth, and rigor to be able to contribute significantly to a team in building a sustainable business in your field of study.
Critical Thinking, Formal Analysis, and Effective Expression
In your first-year you will: get to know Jesus from scripture; be introduced to the great works of literature, arts, and music; and reflect on the skill of critical thinking and analysis. You will begin to develop your potential for becoming a more literate person who thinks, reads, writes, speaks and expresses your ideas effectively. You will explore the diverse world of business, its models and strategies.

Nonimmigrant Student
Applicants Click Here