Orientation 2019
Updated: 9/17/2019
Welcome new students and families! Orientation this year will be held September 27th – October 1st. Check-in for both Residential and Commuter students is Friday, September 27th between 9:00am – 3:00pm. Please find the full schedule below, along with some additional important resources. If you have any questions, please don't hesitate to contact your admissions representative at 858-653-6740.
Check-in Process on Friday
PARKING: 131 S Broadway, Escondido, CA 92025
Campus parking is available at 131 S Broadway, adjacent to our Academic Building.
Public Parking is also available. Please pay attention to all signs regarding time restrictions.
STEP 1: Academic Building (155 W Grand Ave)
Orientation Check-in at Front Entrance
Financial Aid Station
Financial Station
STEP 2: Administrative Building (220 W Grand Ave)
Photo ID's and Student Email Setup
Package pickup (if you mailed anything in advance)
STEP 3: Student Life Center (200 W Grand Ave)
Residential & Parking Permit Station
Campus Mailboxes
STEP 4: Latitude33 Apartments (515 Meander Glen)
Move in for Residential Students. Resident Assistants will be on site to guide you.
Orientation Resources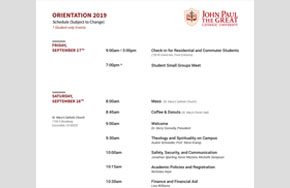 Orientation Schedule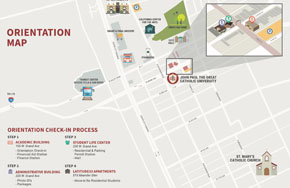 Orientation Map & Hotel List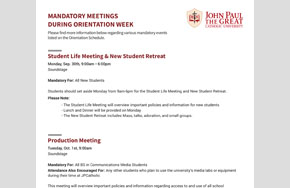 Info on Mandatory Meetings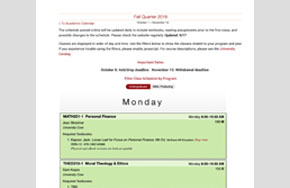 Fall Quarter 2019 Class Schedule & Book List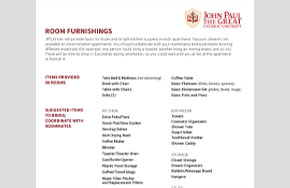 Packing List
Mass Times at Nearby Parishes
St. Mary's Catholic Church, Escondido
1170 South Broadway, Escondido, CA 92025
stmaryescondido.com
Saturday
5:30, 7:00pm (Spanish)
Sunday
7:30am, 9:00am, 10:30am, 12pm (Spanish), 1:30pm (Spanish), 3:30pm (Traditional Latin Mass) and 5:30pm
The Church of St. Timothy, south Escondido
2960 Canyon Rd, Escondido, CA 92029
sttimothychurch.com
Saturday
5:00pm
Sunday
8:30am, 10:30am
Our Lady of Mount Carmel, San Diego
13541 Stoney Creek Rd, San Diego, CA 92129
olmcsandiego.org
Saturday
5:30pm
Sunday
8:00am, 9:45am, 11:30am, 1:15pm (Spanish) and 5:00pm
Connect with us on Social Media!