Europe Trip 2015

The international travel program, unlike most other college programs, is both intensive and focused. The program is specifically designed to expose the student to the European culture and markets, as well as to exploring the heart of the Catholic Church, and its rich history and art. All students are strongly encouraged to participate. For information on the program, contact the Dean of Students.
The International Travel Program includes 16 days (approximately) in Europe,
Ireland - Rosscarbery, Co Cork: 6-nights
France - Paris: 3-nights
Italy - Rome: 7-nights - including a day trip to Assisi.
Read the full itinerary for 2015 here.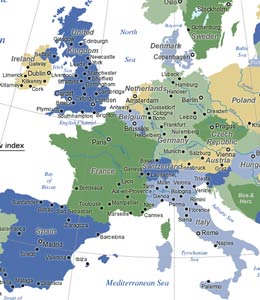 Rosscarbery, Co Cork
Rosscarbery, Co Cork is a historic Cathedral town featuring a great town square with nicely decorated buildings with traditional shop fronts and bars. Ross is an ancient seat of learning rich in history and tradition. It grew up around a monastery, which was established by St. Fachtna in the latter half of the sixth century. The town was once a university town attracting scholars from continental Europe when Ireland was known as the Island of Saints and Scholars. Ross is set in picturesque surroundings overlooking a sandy inlet of the rugged West Cork coastline. It is less than 1 hour from Cork city and is an ideal location for exploring scenic West Cork.
Rosscarbery Accommodation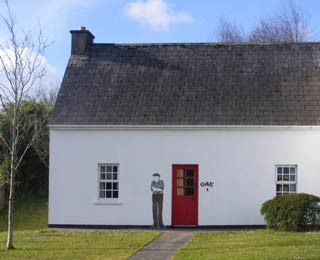 Celtic Cottages (right outside town square) Directions.
Paris
In Paris, students will visit the LOUVRE museum, NOTRE DAME DE PARIS, other major basilicas and famous churches.
Paris Accommodation
The Adveniat youth hostel is located in the very heart of Paris and is just a few steps from from the Champs-Elysees. It is an ideal base for your discovery of Paris. It is managed by the Catholic religious community, the Augustinians of the Assumption (Assumptionists). Google map.
Rome
In Rome, students will attend attend Palm Sunday Mass at St Peter's with Pope Francis; visit all four major basilicas and other famous churches, as well as tour the Vatican museums which includes the Sistine Chapel, the Raphael Rooms and other important works of Leonardo da Vinci, Raphael, Giotto, and Botticelli. There will be a day trip to Assisi.
Rome Accommodation
CENTRO ACCOGLIENZA MINOZZI, Via Dei Gigli D'oro 15, 00186 Roma (right behind Piazza Navona) Google map.
Cost
JPCatholic encourages all students to participate in the International Travel program and therefore works hard to keep costs manageable. Typically, JPCatholic arranges for a group rate that includes accommodations in Paris and Rome, along with ground transportation and entrance fees in these cities. Other expenses, such as transatlantic airfare, food, medical insurance, and passport fees, are handled individually by each student. Total cost of the trip is usually between $2500-$3000, but this is not a guarantee, as prices vary each year.
Notes
Informational meetings for interested students are held at the beginning of the Summer Quarter. The first deposit is usually due at the end of the Summer Quarter, with final amounts due at the end of the Fall Quarter or beginning of the Winter Quarter proceeding the trip.
Students traveling abroad should consider enrolling in health insurance through an insurance plan offered by Cultural Insurance Services International (CISI).
We recommend you purchase a multi-city ticket from San Diego - Dublin and Rome - San Diego from a US airline (United, Delta, Continental or US Airways). Note: Fares fluctuate daily.
Once in Dublin - Take a BUS to get to Rosscarbery:

From Dublin Airport to Cork use Aircoach bus - you will stop in downtown Dublin (Westmoreland Street) Dublin, but you do not have to get off the bus.
From Cork to Rosscarbery, you should take Bus Eireannn. See the Cork-Rosscarbery bus schedule.
You cannot fly from Dublin to Cork!!

If you fly into Cork Airport - take a BUS to Cork City and from there you can catch the bus to Rosscarbery. See the Cork-Cork Airport bus schedule and also Cork-Cork Airport-Kinsale bus schedule
Parents and siblings are welcome to join the International Travel program at their own expense and at the discretion of the program's leader.