Student Success at JPCatholic
John Paul the Great Catholic University is a visionary teaching institution focused on and dedicated to forming students into future innovators and creators, leaders and entrepreneurs. Students have the opportunity to acquire a deep and personal knowledge of Jesus Christ. Catholic ethical, moral, and social values provide a guiding compass for everything we do.
JPCatholic is committed to the success of all our students. This includes setting and assessing learning outcomes for the institution and each program, as well as monitoring retention and graduation rates for all students. This website provides an overview of the processes and data used to monitor and improve student success, with links to further data where available.
Institutional Learning Outcomes
Values and knowledge based on the teachings of Jesus Christ as articulated by the Catholic Church
Communication Fluency - Written, Oral, and Audio Visual
Quantitative and Qualitative Assessment
Leadership and Decision-making
Information Literacy
Critical and Creative Thinking
Program Learning Outcomes
Our Program Learning Outcomes (PLOs) align with the university mission to impact culture for Christ and the Institutional Learning Outcomes. The Program Learning Outcomes guide faculty and students in each degree program towards achieving the mission of JPCatholic in their specific focus area.
Course Learning Outcomes
Faculty develop course learning outcomes for each course that align with the Program Learning Outcomes. Students are asked to assess their mastery of the course learning outcomes through the course evaluation system.
Evidence of Student Learning
Evidence of achievement of the course and program learning outcomes is collected in every course through the use of signature assignments. The signature assignment for a particular course is designed to measure student learning for one or more of the Program Learning Outcomes associated with the course. Examples of signature assignments include research papers, presentations, tests, film projects, and business plans. Student scores on the signature assignments are collected and reviewed to determine how well students are achieving the Program Learning Outcomes. This data is analyzed by faculty as part of the program review process.
Retention and Graduation Data
JPCatholic collects data on student persistence and graduation in all programs. The most recent available data is shown below.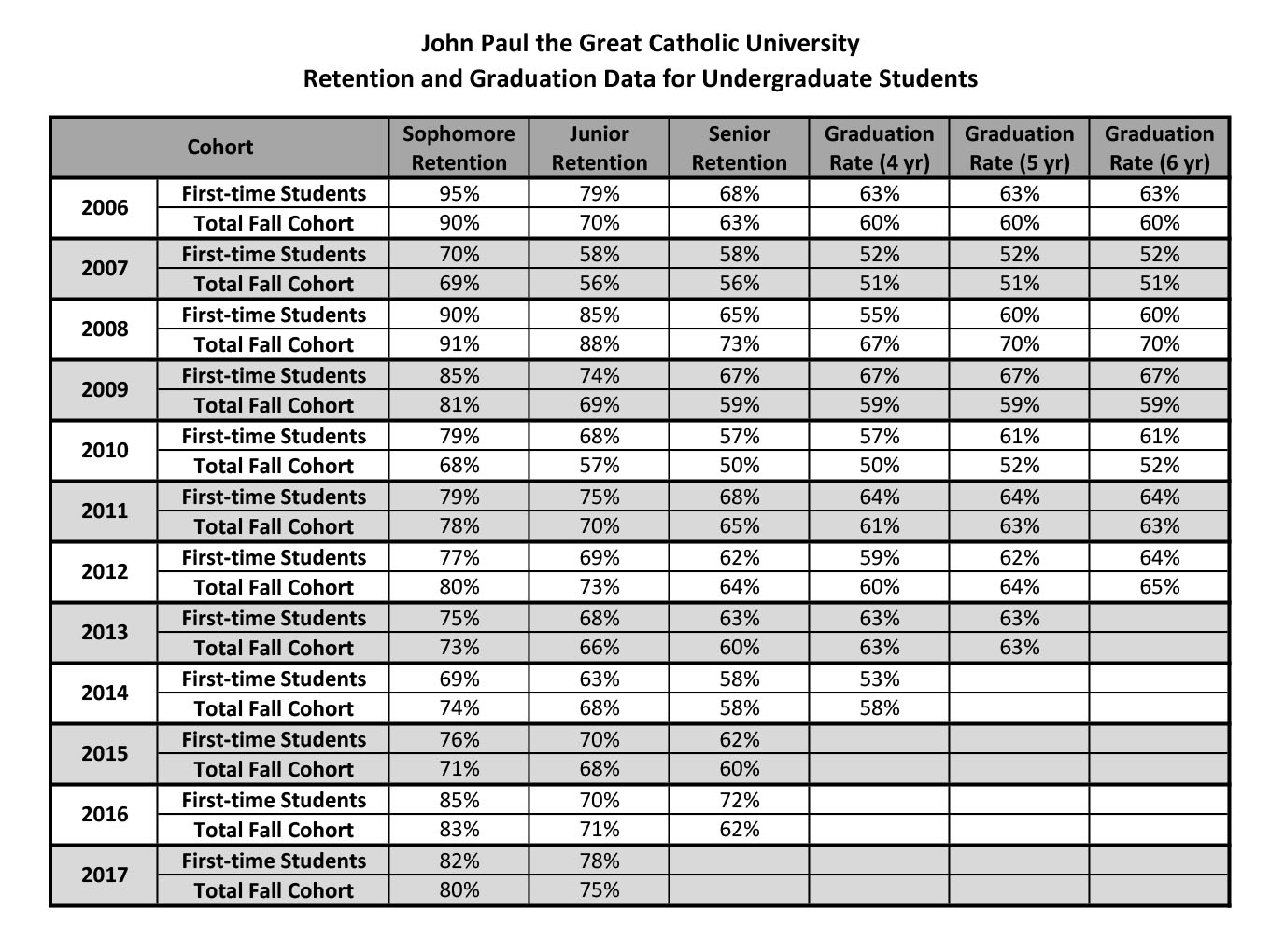 Data on retention and graduation are also reported to the National Center for Education Statistics (NCES) through the Integrated Postsecondary Education Data System (IPEDS).
University Core Program Learning Outcomes
IMPACT
In order to have an impact, student must be able to:
Describe strategies and demonstrate a desire to learn independently.
Use critical thinking and logical reasoning to sift truth from falsehood.
Communicate and evangelize using empathetic listening and applying reason in a logical form.
CULTURE
In order to impact culture, students must be able to:
Analyze the causes of culture and evaluate culture's impact on the individual, family and society.
CHRIST
In order to impact culture for Christ, students must be able to
Demonstrate an understanding of Christian prayer and virtue arising from a friendship with Jesus Christ.
Demonstrate an intimacy with the Sacred Page through academic work.
Demonstrate an understanding of the teaching of the Catholic Church.
Articulate an approach to ethics informed by Catholic teaching, offering an account of the moral responsibilities of the human person and society requisite for human fulfillment.
Business Program Learning Outcomes
Spiritual and Ethical Development
Students integrate their faith into their practice of business, considering how business impacts the spiritual life of all stakeholders and developing virtues to help with business decision making.
Business Knowledge and Understanding
Students develop critical thinking, analytical skills, and interpersonal skills to help them succeed in a constantly changing business environment.
Students can apply the approach of business storytelling and planning to communicate effectively in oral and written communications.
Students can explain the principles and basic practices in the following core business disciplines including: economics, accounting, finance, management, leadership, marketing, risk, strategy, law, and global markets.
Business Leadership and Execution
Students identify core business problems and opportunities, and develop entrepreneurial skills to respond with concrete proposals and business plans.
Media Program Learning Outcomes
Ethical and spiritual development
Students articulate a response to an ethical dilemma they are likely to encounter while working in media, based on a personal code of ethics informed by the teachings of Jesus Christ.
Media knowledge and understanding
Students apply the concepts of storytelling, as practiced by the commercial entertainment industry, to create forward-thinking projects that communicate meaning and benefit their audience.
Students demonstrate knowledge of specific aspects of media production that are relevant to their area of study.
Students analyze media products at various stages of development from multiple points of view for technical and artistic excellence, effectiveness and meaning.
Entrepreneurial orientation & professional focus and development
Students identify their specialized interest and value within media, and use the knowledge, skills and experience necessary to be hired by media companies, and, when appropriate to their specialty, analyze the commercial prospects for media products and articulate strategies to take advantage of business opportunities in both traditional and new media.
Humanities Program Learning Outcomes
Examine the intellectual, religious, political, and cultural tradition of western civilization attentively with an eye toward entering into contemporary conversations on those topics.
Critique the textual and artistic monuments of western civilization.
Articulate and examine the perennial questions that arise out of the human experience and assess the most significant answers that have been given to them in a way that is formed by the Catholic intellectual tradition.
Analyze the way the Catholic Church has contributed and continues to contribute to and been influenced by the western intellectual, religious, political, and cultural tradition.
Demonstrate eloquence and persuasiveness in writing and speaking.